Paraguay's Colorados back in office; opposition admits defeat; observers praise election process
Monday, April 22nd 2013 - 06:34 UTC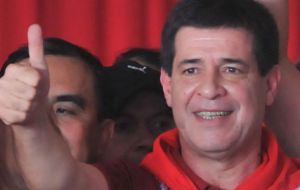 Millionaire businessman Horacio Cartes won Paraguay's Sunday presidential election, returning the powerful centre-right Colorado Party to power after a brief spell started in 2008 ended in impeachment last year. Cartes won with a 9 or 10 percentage point lead over Efrain Alegre of the ruling Liberal Party, the head of the country's electoral tribunal said.
Alegre conceded defeat while thousands of Colorado Party supporters wearing red shirts and scarves honked horns and blasted music in the capital Asuncion, celebrating their party's return to power after its 60-year reign was interrupted in 2008.
Cartes is a political novice who had never even voted before joining the Colorado Party four years ago. He has vowed to reform the party, which is notorious for corruption. Its long period in power included General Alfredo Stroessner's 1954-1989 dictatorship.
Cartes had about 46% support and Alegre trailed with about 37% with results in from more than three-quarters of polling stations. Turnout was 68.5% which is higher than in 2003 and 2008.
With Cartes as president, Paraguay will have a conservative government, bucking the populist trend in South America. Only Colombia and Chile are ruled by conservatives, although this has not impeded Brazil, Peru and Uruguay implement orthodox economic policies.
Alegre's centre-right Liberal Party took over the presidency after populist President Fernando Lugo was impeached last June. Congress ousted Lugo, a former Roman Catholic bishop, after finding him guilty of mishandling a land eviction in which 17 police officers and peasant farmers were killed.
Mercosur and Unasur likened the two-day impeachment trial to a 'parliamentary' coup and imposed diplomatic sanctions on the South American nation.
Lugo headed a catch-all coalition organized by the Liberal party, which helped defeat the divided Colorados in 2008, but he became increasingly isolated as he did not keep to the original political agreement with the Liberal. The massacre triggered his downfall but he had long been isolated and with virtually no support in Congress because of his erratic handling of government affairs.
International observers, which included from the European Union, the Organization of American States and the Carter Centre said they had received no complaints of fraud during Sunday's election.
Paraguay's current president, Federico Franco, was barred by the constitution from running for re-election even though he is just serving out what remained of Lugo's five-year term. He will hand over the presidency in August.
The election also renewed the two houses of Congress, governors and representatives for the Mercosur parliament. The composition of the new congress will be known in the next 48 hours. Preliminary results indicate the Colorado party will have 15 out of 45 benches in the Senate.