Brazil investigating sale of 20 Embraer E-190 to Aerolíneas Argentinas fearing surcharges
Tuesday, April 23rd 2013 - 06:46 UTC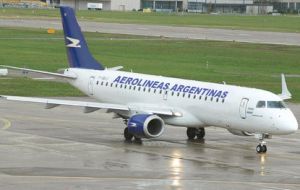 Brazil' aircraft manufacturer Embrear is again resurfacing suspicions regarding the sale of commercial planes to Aerolineas Argentinas involving several million dollars in surcharges. The company informed the US Securities and Exchange Commission, SEC, that it is investigating companies from five different countries to which it sold aircraft allegedly in transactions suspicious of irregularities.
In 2009 Argentina signed an agreement for the purchase of 20 Embraer E-190 aircraft for government controlled Austral, an operation apparently involving 698 million dollars with a unit price of 34.9 million dollars. The E-190 is considered a mid range aircraft highly competitive and with a capacity of 100 to 115 pax.
However this sum is considered excessive by analysts if compared with what the going market price was at the time. The operation 80% financed by the Brazilian Economic and Social development bank, BNDES, was signed by Federal Planning minister Julio De Vido; then Transport Secretary Ricardo Jaime and then Aerolineas Argentinas president and currently Justice minister Julio Alak.
Magistrate Sergio Torres opened an investigation on suspicion that the Argentine government had paid 5 to 6 million dollars in excess for each aircraft, which would add up to 100/120 million dollars. Aerolineas Argentinas and the government rejected the claims arguing that in effect the original price was 30.6 million for each unit and the additional 4.3 million was the result of spares and pilots' instructions.
The situation set off alarm bells in the aircraft industry and a warning from United States SEC office to which the Brazilian government responded by opening an internal investigation.
And last month Embraer sent an update report to SEC on investigations so far: "We received a summons from SEC in September 2010 requesting about certain operations relative to overseas sale of aircraft. In reply and to consultations over possible breach of US legislation on foreign corrupt practices, we contracted a foreign solicitor for an internal investigation into transactions with three specific countries".
Likewise Embrear says it is willing to expand the area of investigation and has done so including two additional countries and in close cooperation with the US Secretary of Justice and SEC. "In case authorities decide on measures against us or the sides involved reach an agreement to solve the issue, we could be obliged to pay strong fines or incur in other sanctions".
The case not only refers to market prices of the time but to the fact that when a big number of aircraft are involved, they usually are benefited with additional rebates.
According to the specialized magazine Aircraft Commerce, in November 2008, an E-190 was sold to Aeroméxico for 29 million dollars and in July 2009, TACA airlines paid 30.5 million dollars for an E-195. Air Europa in 2009 paid 31 million dollars, also confirmed by the Airline Fleet Management magazine. Finally Ascend Aviation Insight said that in 2009, the E-190 had a going price of 27.85 million.