Cartes pledges allegiance to Mercosur: abandoning it 'would be utterly nonsense'
Tuesday, April 23rd 2013 - 02:23 UTC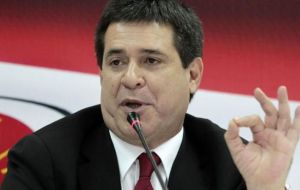 President-elect Horacio Cartes said that even when some aspects of Mercosur can be improved it "would be utterly nonsense" to abandon the block since it generates many jobs in the country, attracts investment and is an opportunity to open markets.
"I've heard so many things about Mercosur: that we should abandon the block, but that would be sheer nonsense. Even when many aspects can be improved Mercosur is too important for us, jobs, investment, and my policy will be the quickest possible return to Mercosur" said Cartes during his first press conference with foreign media following on Sunday's victory.
"The preferential tariffs we enjoy inside the block attracts mostly Brazilian companies that establish in Paraguay and give employment to our people; this is unquestionable", added Cartes
"We are going to do everything possible to return to Mercosur" Cartes emphasized and regarding the controversy over Venezuela, he said he "was willing to talk" about it and "I think in the Senate there is a more favourable environment to address the issue".
Paraguay remains suspended from Mercosur since the events of June 2012 when Fernando Lugo was removed from office by the Senate and replaced by Federico Franco.
Following the suspension of Paraguay, the other three full members of Mercosur approved the incorporation as full member of Venezuela which had been blocked by the Paraguayan Senate.
The president-elect also talked about the Colorado Party and did not deny errors in the past. "I think the party was convinced it was invincible, and it wasn't; it forgot its doctrine, it forgot about the most vulnerable of our nation, it forgot it had to work for the people and reality proved it" said Cartes
"We've learnt the 2008 lesson, we are listening to the people" he added.
Likewise the rich businessman said that the million votes that supported his candidacy is eloquent evidence that the people are against the current development model and are looking for new ideas, new horizons.
Finally regarding his scarce political experience (he only joined the Colorado party in 2009), Cartes said he was happy "of not having learnt or copied from the current political practices I have seen in recent years".
Cartes also revealed that he had met with President Federico Franco and had suggested a transition team between the two administrations, ahead of the inauguration ceremony August 15.
The team will be made up of a close business advisor from the Cartes group of companies, Juan Carlos Lopez Moreira; German Rojas former president of the Paraguayan central bank and now in the private sector and Leila Rachid, former Foreign minister from the previous Colorado government of Nicanor Duarte Frutos.
"We fully trust in the good willingness and patriotism of President Federico Franco to receive positively this request and we attach a brief presentation of our transition team and our strategic areas for the first days of government so we can start working for Paraguay", said a brief release from the Cartes team.