China plans more carriers as it extends naval influence and anticipates conflicts in the region
Wednesday, April 24th 2013 - 23:20 UTC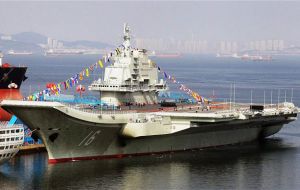 China unveiled plans to build more aircraft carriers after commissioning its first last year, as the country extends its influence amid territorial disputes with neighbours including Japan and Vietnam. China already has the world's second-biggest military budget after the US.
Future aircraft carriers will carry more fighter jets than the Liaoning, Rear Admiral Song Xue told foreign military attaches in Beijing, according to the official Xinhua New Agency. The carrier was built around a Soviet-era hull and began trials at sea last year.
The remarks signal that the People's Liberation Army will push ahead with a modernization plan under which defence spending has more than doubled since 2006. China has been more assertive in pressing sovereignty claims against Japan as well as Vietnam and the Philippines in the South China Sea.
The announcement comes at a time when tensions between China and Japan have escalated over islands in the East China Sea claimed by both sides.
Japanese Prime Minister Shinzo Abe this week vowed to use force if necessary to defend the islands, called Diaoyu in China and Senkaku in Japan.
The tensions flared as Martin Dempsey, the chairman of the US Joint Chiefs of Staff, visited China. He and Chinese counterpart Fang Fenghui said April 22 they want to expand military ties.
"The heightened risk is a function of heightened rhetoric that could produce emotional outcomes at the tactical level that could frankly get away from control of the central level," Dempsey told reporters in Beijing.
China and Japan each issued formal protests over the presence of each other's vessels in waters around the islands, which lie in an area rich in fish and natural gas. China also protested after members of Abe's government visited a Tokyo shrine seen in Asia as a symbol of wartime aggression.
China has also pressed its claims in the South China Sea. Last month, a Chinese ship fired on a Vietnamese fishing vessel in an area of the sea claimed by both sides. Chinese and Philippine vessels squared off early last year over claims to a reef known as Scarborough Shoal.
Zhang Zheng, the Liaoning's captain, told the foreign attaches that the carrier's crew had mastered the ship's weapons systems, Xinhua reported. Song said that the J-15 fighter aircraft needed more trials before becoming operational on the carrier, according to the report.