Falkland Island''s tells MPs 'we're no quaint toy town' on suggestion of changing Stanley's name
Wednesday, April 24th 2013 - 01:47 UTC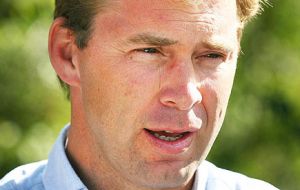 A suggestion by some British senior Members of Parliament advocating a change of name for the Falkland Islands capital, Stanley to Port Margaret Thatcher in honour of the late Baroness had a strong reply from the local weekly, Penguin News.
"Last week, we were being urged in certain quarters to consider changing the name of Stanley in honour of Baroness Thatcher. Without wishing to show any lack of respect for someone whom we honoured when she was alive by awarding her the Freedom of the Falklands and by naming both a street and a day after her, the first reaction in this office to such a suggestion was one of hilarity.
Once the laughter had died down, we began to consider the suggestion more seriously and some pragmatic factors began to emerge, like the sheer cost and annoyance that such a move would involve. For starters, anything that is currently printed with the word Stanley, from business cards to milestones, would have to be re-printed, or re-chiselled. Would UK MP Tobias Ellwood, who considers such a move appropriate, be prepared to meet the costs involved? I doubt it.
While some are resigned to using the name Malvinas when trying to identify where we live to Spanish speakers, others don't like it and I don't know of anyone, even including some Argentine friends, willing to use or accept the name Puerto Argentino, imposed on us in 1982 and vividly recall the horror that all the inhabitants of Stanley felt when immediately after the invasion our capital briefly became Puerto Rivero.
The fact that Argentina continues to use the name they tried to impose on us only serves to remind us of that country's lack of respect for us. It also makes the complaint by Argentine Foreign Secretary Hector Timerman that changing the name of Stanley would breach United Nations resolutions more than usually odd, even for him.
I have some sympathy with the view that annoying the Argentine Government is sufficient reason for changing Stanley's name, but fun though that might be it rather ignores the original and presumably serious reason behind the suggestion, which was about honouring the memory of Lady Thatcher and acknowledging her contribution to our freedom.
However, one can imagine the fuss that would be created in England if we in the Falkland Islands were to suggest that the ancient city of York should be renamed Rowntreeville or Hudsontown on the reasonable basis that these two entrepreneurs were responsible for establishing it as a prosperous chocolate and railway city in the 19th Century.
What worries me is that this kind of thing typifies the attitude of certain sectors of the British press and the British political establishment, which seem to regard the Falkland Islands as some kind of quaint toy town to be re-named, re-painted, or perhaps abandoned to the back of the cupboard, according to their whim.
While support from any quarter is normally welcome, if those giving it do not understand that what we are about is self-determination rather than being anybody's possession or colonial vassal, we might be better off without it.
As the old adage goes: "with friends like these, who needs enemies?"'(PN)