UK launches legal challenge against the EU financial transactions tax
Wednesday, April 24th 2013 - 23:29 UTC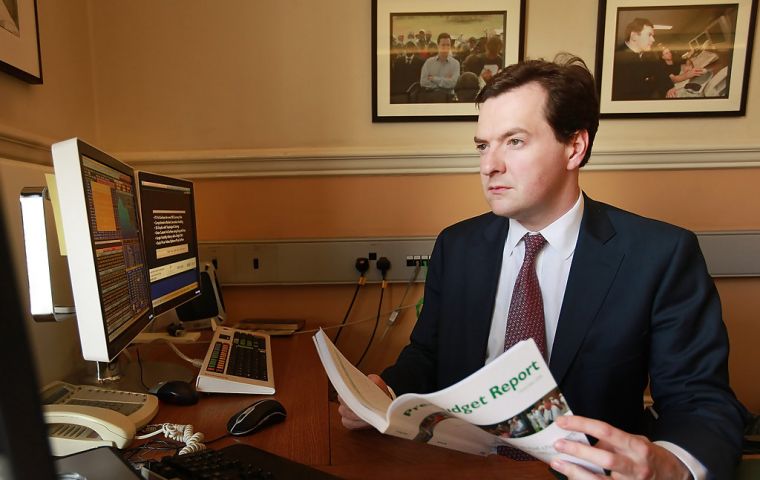 The UK government has launched a legal challenge against plans for a European financial transactions tax (FTT), according to the BBC. The FTT will be adopted by 11 EU states, but not by the UK and Ministers fear it could be imposed on UK firms trading with businesses based in one of the 11 states.
The 11 countries are Germany, France, Italy, Spain, Belgium, Austria, Portugal, Greece, Slovenia, Slovakia and Estonia.
The BBC explained that if, for example, a British firm trades with branches of French or German banks based in the capital, the British government would have to collect the tax but would not be allowed to keep it.
BBC business editor Robert Peston said that, by increasing the costs of these deals, there could be big falls in the value of business carried out in the City, running to many billions of pounds.
"We think that the financial transaction tax which the European Commission has put forward is not right for Britain", UK Chancellor George Osborne told the BBC and said an application had been lodged at the European Court of Justice.
"Britain doesn't want to take part but it also doesn't want to be caught in the effects of this tax being introduced by other countries. Let's be clear - financial transaction tax is not a tax on banks or bankers, it's a tax on pensioners and people with savings and investments," the Chancellor adds.
The BBC reports that a European Commission spokesman said: "We remain confident that the decision to approve enhanced co-operation on the FTT, which was voted by EU member states on January 22, is legally sound."
"It is fully in line with international law and the principles of the single market. Transactions will only be taxed if there is an established economic link to the FTT-zone, in a way that is fully compatible with the principles of cross-border taxation," they added.