Unasur greets president elect Cartes and congratulates the Paraguayan people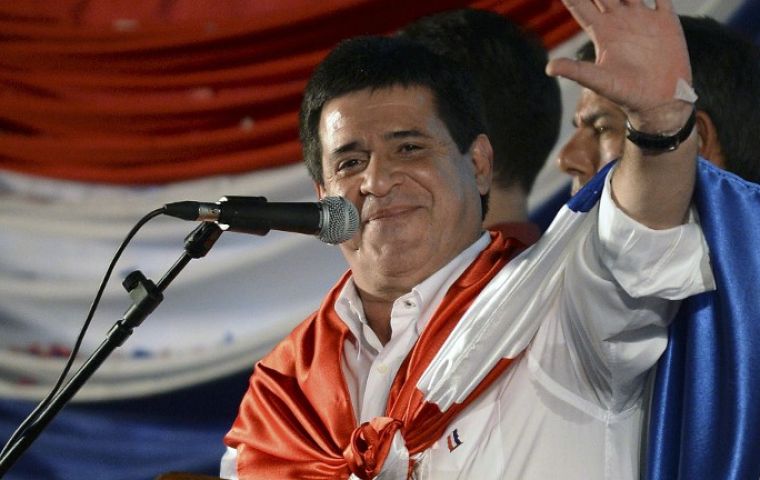 The Union of South American Nations, UNASUR, congratulated the Paraguayan people for their civic commitment in last Sunday's presidential election and greeted Horacio Cartes, who was the winner with 46% of ballots.
In a press release from the Peruvian Foreign ministry, Unasur underlined the work displayed by its Electoral Follow-mission and the High Level group for the monitoring and assessment of the Paraguayan situation, which was conducted by former Peruvian Prime Minister Salomon Lerner.
"The mission has confirmed the compliance with the electoral calendar, the normal development of the elections and voting day, and the broad participation of the Paraguayan people which helps in the advancement of the democratic and institutional process in Paraguay", added the release.
Unasur also underlined the role of the Electoral Justice Superior Tribunal in organizing and conducting the whole electoral process and their support for the electoral monitoring mission. Paraguay remains suspended from Unasur and Mercosur since June 2012 following the impeachment and removal of Fernando Lugo from office.
In related news the Paraguayan government presented the European Union mission of observers to Sunday's election with an acknowledgement for their job monitoring the whole electoral process.
"We have shown to the world that we are capable of sustaining democracy and we have opened the doors for foreign missions to come here and observe how Paraguayans vote and chose our authorities in clean exemplary elections" said Paraguayan Foreign minister Jose Felix Fernandez Estigarribia.
Renate Weber head of the EU observers' mission thanked "the people of Paraguay for their kindness and consideration and the Paraguayan officials for their openness and positive attitude towards the media".
Ms Weber pointed out that relations with Paraguay are of 'utmost priority' and thus the willingness from the EU block to keep cooperating, and for which they have a budget.
The EU had 74 observers displayed in the whole of Paraguay during the general elections of last Sunday.