Falkland Islands' Desk in Foreign Office impresses visiting Chevening scholars
Thursday, April 25th 2013 - 19:44 UTC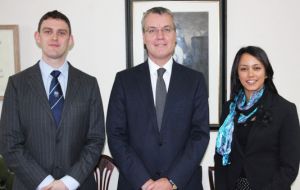 Two Chevening scholars from British Overseas Territories visited the Foreign and Commonwealth Office in London and were impressed at the number of staff focused on the Falklands and their knowledge and proactive stance towards the Islands.
In last week's tour Falkland Islander Sam Cockwell and St Helenian Tara Thomas met with officials from the FCO Overseas Territories Directorate including its Director, Peter Hayes, the Head of the Falklands and Southern Oceans Department, Martin Longden, and former Governor of the Falklands, Alan Huckle, as well as representatives of the St Helena Government, Kedell Worboys (UK Office) and Gilly Francis.
Discussions included the outcome of the Falklands March referendum, the work being carried out by Falklands' elected lawmakers (Members of the Legislative Assembly) in the Latin American region and Sam's attendance at Lady Thatcher's funeral.
The FCO also organised a network lunch for Sam and Tara and an historical tour of the FCO. Sam said the visit had given him an insight into how the OT offices worked, particularly the interconnected nature of the different territories,
"I was also very impressed with the number of staff focused on the Falklands, their knowledge of the Islands and the proactive stance they were all taking. Overall, it was very encouraging for the future."
Sam is currently studying for a Masters in Petroleum Engineering at Imperial College in London while Tara is working towards an MBA at the London School of Business & Finance. Both were awarded the FCO Chevening Scholarship in 2012.