Falkland Island's Conservation review and appeal on World Penguin Day
Friday, April 26th 2013 - 14:48 UTC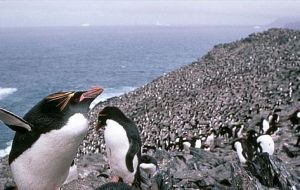 This week penguins are celebrated through World Penguin Day (Thursday April 25) and Sarah Crofts from Falklands Conservation explains why more research is desirable on them in the Islands.
There are an estimated one million breeding penguins in the Falklands. Every five years, Falklands Conservation conducts an Island wide census to determine their numbers providing long-term data on population trends– something that will be an invaluable tool in future climate change modeling.
The Magellanic penguin species is, however, still lacking the simplest of baseline data.
Its nest burrowing nature and widespread distribution, as well as associated surveying costs has stalled attempts so far to collect accurate data.
At this time of year Magellanic and Rockhopper penguins migrate north for the winter on the Patagonian Shelf. A recent satellite tracking study of Rockhopper penguins by FC revealed they can travel up to 3,500 km in a winter trip and utilize ocean areas more than one million square kilometers.
Tracking breeding penguins at different colonies reveals that populations tend to have their own distinct foraging areas and prefer to keep to themselves, this way they do not all compete for the same food resources.
There are some 84 Gentoo, 40 Rockhopper colonies and widespread locations of Magellanic penguins across the Falklands.
We are only at the very beginning of understanding where they forage from each colony and how they interact or segregate themselves from other penguin populations.
Putting in place good baseline data, for penguins in particular, is one of the priorities highlighted by the Falkland Islands Hydrocarbon Gap Analysis Forum.
Tracking penguins from key sites should highlight the main areas of penguin overlap with oil licence areas and potential oil tanker routes once identified.
There is still a lot of information that needs to be gathered like identifying which are the key sites to track penguins from and which species and age groups are the most vulnerable to the main hydrocarbon areas.
With limited resources and a short time before potential oil extraction is expected, understanding more about Falkland penguins has never been so pertinent.
Falklands Conservation, alongside other Falkland Islands' based researchers will have the chance to discuss some of these topical issues at the next International Penguin Conference which will be held in Bristol, UK this September. (Penguin News)