President Rousseff calls on Vale to dialogue with Argentine authorities
Friday, April 26th 2013 - 08:00 UTC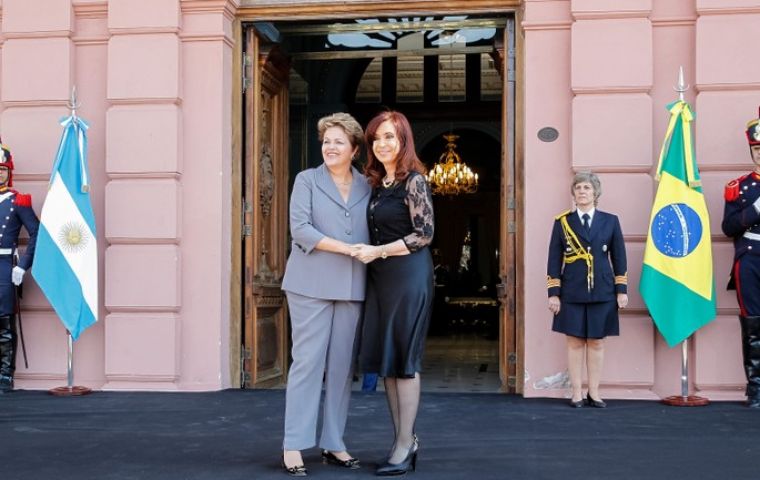 Brazilian president Dilma Rousseff said during a joint conference with her Argentine peer Cristina Fernández at Government House in Buenos Aires that she was certain the Vale mining company "would find a way to reach an agreement with the Argentine authorities" on the suspended project.
Even though Rousseff did not make any specific announcement on the matter, the Brazilian head of state seemed in favour of finding an agreement that doesn't affect Argentina, after the company announced its decision to stop investing in Mendoza.
Standing right next to her, Cristina said it had been a "long, constructive day," specifically after discussing bilateral trade.
Cristina Fernández said that both presidents were "very happy" with the meeting, as she announced they would both be meeting in Brazil in three months time. Rousseff arrived in Buenos Aires on Thursday to address a broad agenda of common topics, particularly trade, integration and investments.
"Our reply to the world crisis has been and will be more and more efforts in social inclusion" said the Brazilian president who underlined the 'importance of dialogue' between the two countries.
"It is the best road for the Brazilian corporation Vale so it can sit and negotiate with Argentine authorities".
Vale, one of Brazil's main corporations and an international heavy-weight in minerals trade announced a couple of months ago that because of 'costs and inflation' it was abandoning a potassium development investment in the Argentine province of Mendoza, estimated in 6 billion dollars and which left 4.000 people out of a job.
It was to be the largest single investment in Argentina in decades and would give the province of Mendoza a huge boost. It included a railway to transport the mineral to an export port close to Bahia Blanca.
On announcing its decision to suspend the project the provincial government ordered the freezing of all assets of the Brazilian company and the Ministry of Labour went to court to demand Vale explain why it was leaving the project.
During the conference Cristina Fernandez again gave her full support to the "democratic president of Venezuela Nicolas Maduro", a statement supported by Rousseff who underlined "he took office in a democratic way" which represents "a role of stability for the region", and called to fight for a shared region of ethical and moral principles.
Another issue of the bilateral talks was development and greater integration of the car industry and auto-parts manufacturing.
On Wednesday at the opening ceremony of extension works of a manufacturing plant, President Cristina Fernández said that both head of states would "discuss automobile industry development between Argentina and Brazil", and stressed, "the importance of working together with the country's key trading partner as it will add value and labour opportunities to both countries."
Though it was originally scheduled as a one-day visit, Rousseff's agenda might suffer some re-arrangements so that it can be extended until Friday. The meeting was originally scheduled for March 7 at El Calafate in the province of Santa Cruz but had to be suspended due the death of Venezuela's former president Hugo Chávez.