Unemployment in Spain with no ceiling: 27% in first quarter of 2013
Friday, April 26th 2013 - 07:40 UTC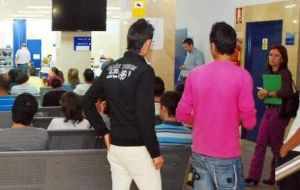 The Spanish National Statistics Institute, INE, reported on Thursday that the nation's unemployment rate shot up from 26.02% in the last quarter of 2012 to 27.16% in the first three months of this year. This is approximately 6.2 million Spaniards are out of a job. Youth unemployment stands at 57%.
The INE said the increase reflected the additional 237,400 people registered as unemployed in the first quarter of 2013.
With more than six million people out of work, the Euro-zone's fourth largest economy now has the highest unemployment rate since records began in the 1970s.
Spain is in the midst of a double-dip recession triggered by the collapse of a property boom in 2008. Unemployment figures have since risen year-on-year despite hefty financial bailouts from international lenders.
Youth unemployment has soared to 57% and Spain's population fell last year for the first time on record as young people and immigrants, who came to Spain to work in the once booming construction industry, flee the crisis.
Analysts say the most troubling statistic is that almost a third of jobless have been out of work for more than two years. Also, two million Spanish households have no one earning a wage.
"More than half Spain's unemployed have very low levels of education and skill levels and that, combined with several years of unemployment, is the biggest risk to recovery in Spain," said Marcel Jansen at Madrid-based think tank Fedea.
"How on earth are we going to reemploy more than 3 million low educated people? This is a big question mark."
Spanish Prime Minister Mariano Rajoy is due to unveil a new package of economic reforms designed to revive the nation's struggling economy on Friday. His conservative government has offered reassurances that crippling austerity measures which have so far driven Spain's response to the economic crisis, will not be included in the new reform plan.
Speaking in parliament on Wednesday he warned that unemployment figures throughout the year "will not be good," but are set to improve in 2014.
"Next year we will have growth and jobs created in our country," Rajoy said.