Argentine government considering options to contain the 'parallel' dollar
Monday, April 29th 2013 - 23:17 UTC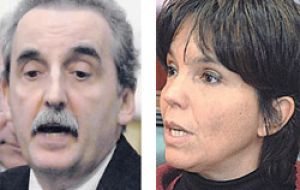 The Argentine government is considering different options to contain the current skyrocketing of the US dollar, but according to the financial media there are different positions in the cabinet of President Cristina Fernandez. One of those calls for direct interventions while the other adopts a more passive attitude saying the issue is speculative and 'marginal'.
The aggressive Interior Trade minister Guillermo Moreno wants to flood the parallel market with the necessary Central bank dollars until a level is reached that satisfies government policy, "and fight for it to remain there". He does not believe in the so called 'friendly' money exchange houses which allegedly helped in the past to moderate increases.
"This can be achieved with 100 million dollars during a week, which will put an end to the 'coup mongers' money dealers", argues Moreno.
The theory is that the 'blue market' trades daily no more than 30 million dollars and in the past when the Central bank was known to be prepared to intervene and give the Peso devaluation speculators 'a lesson', that was enough to bring order to the market.
Economy minister Hernan Lorenzino, (the man 'who wants to leave') prefers a more formal approach: an increase in interest rates and soaking Pesos from the market.
However on the other side are also heavyweights: the Presidency's legal and technical secretary Carlos Zannini, Deputy Economy Minister Axel Kicillof and the central bank governor, Mercedes Marcó del Pont.
They believe that what is going on is pure speculation with pressures on government to increase significantly the value of the official dollar and intervening means admitting it and falling to speculators' gamble. "A no option' is the reply besides the fact it is a marginal market which only attracts those wanting to travel overseas and segments of the middle class that will never vote for the government.
However Kicillof would like to see the foreign exchange market which now has at least ten different options limited to the official and the parallel. But he is still short of support.