Lanata claims 80% of media in under Argentina government control for propaganda purposes
Monday, April 29th 2013 - 04:36 UTC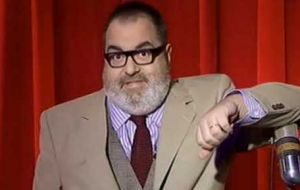 Argentine journalist Jorge Lanata who has won Spain's Television Iris Award, claims that '80% of Argentine media is in the hands of government (President Cristina Fernandez)" which are used as "instruments of propaganda".
Lanata was given the award for his "standing exposure of the corrupt political class and his defence of the weakest", according to the statement that supported the Spanish television academy most respectable prize.
"We're going through a delicate moment and in a state of division that is promoted from the very centres of power", argued Lanata interviewed by Spain's government news agency.
His program "Journalism for all" aired by Channel 13 is currently in the heart of a major political controversy in Argentina following his exposure, with documents and witnesses of a web of companies belonging to former Argentine president Nestor Kirchner which had a close friend of his as the front man and who became the only public works contractor of the province of Santa Cruz, the Kirchner's political turf.
Once his mentor became president and moved to Buenos Aires the former obscure bank teller Lazaro Baez became one of the richest men in the province with assets estimated in tens of millions of dollars and his companies absorbing most of public works now in the whole of Patagonia.
The organization of Kirchner and Baez allegedly has also been involved in money laundering from the skimmed public works through Uruguay to Panama, Belize, Caribbean islands and finally Switzerland.
Lanata regretted that the Argentine courts have yet to decide an investigation despite all the information and documents supplied. "I don't think it is because the system is corrupt but rather that the Executive keeps advancing on the judicial branch", said Lanata.
"Our job is not evangelization or teaching, it is just telling what we know and that we can prove and communicate it in the most creative form possible", pointed out the Argentine journalist who added that "we must be as independent as possible. What gives me independence is public opinion: as long as they watch us that is what gives us power".
Reference internet Lanata described it as the greatest invention since printing and "a great opportunity" for journalism. "Sure we are going through a crisis, but a good crisis. Internet is just starting and offers a great opportunity to experiment new things".
Finally the Argentine communicator said that the world is changing and the role of emerging countries and their media will keep growing including in this area. "We are still submitted mostly to a North-South communication system, but in a near future we'll be facing new paradigms and new ways of communicating"-
Lanata describes himself as la liberal with left wing inclinations. Liberal because he believes in democracy and left wing because of the injustices "I see and come across everyday"