Antarctica and Punta Arenas historic links underlined in Chilean tourist guide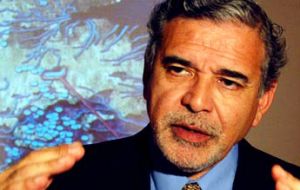 A complete Antarctica tourist guide, in English and Spanish was launched by the Chilean Antarctic Institute to promote the polar identity and heritage of over fifty sites in the Punta Arenas area, extreme south of Chile and the Magellan strait.
The launching of the "Punta Arenas Antarctic and Magellan Strait circuit Guide" convened local and regional authorities plus representatives from the tourism industry in Punta Arenas which has always been closely linked to Antarctica and the southern seas.
"The guide is a tremendous support for regional tourism and for confirming Punta Arenas as the gateway not only nowadays but historically, to Antarctica", said Jaime Vasquez head of Antarctica XXI and representative in Chile of IAATO, International Association of Antarctica Tour Operators.
The publication received a strong contribution from Chilean ambassador and researcher Jorge Berguño, an expert in historical and heritage events of Punta Arenas and its links with Antarctica.
"The purpose of the guide is to make the visitor, be it a national or foreigner, aware that he is in the Magallanes Region and Chilean Antarctica and there are many reasons and milestones for that which is described in the publication", said Jose Retamales, head of Chile's Antarctic Institute, INACH.
"Very few cities in the world, no more that three, have such deep historic links with Antarctica as has Punta Arenas" added Retamales.
Back in 2005 INACH had already established a historic Antarctic circuit with information on all the explorers that visited and spent time in Punta Arenas. However with this edition the number in the circuit is increased from 23 to 50 sites, and the latest 64 page edition has been edited as part of INACH fifty year celebrations.