Antarctica received an estimated 35.000 visitors this 2012/13 season, says IAATO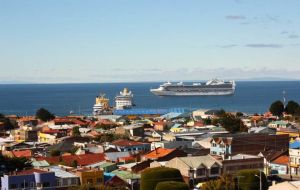 An estimated 35.000 visitors enjoyed the pristine landscape of Antarctica during this last 2012/13 season, which represents a 32% increase over the previous period, according to IAATO, (International Association of Antarctica Tour Operators) and is responsible for 90% or these tours.
The numbers were announced during the latest annual IAATO congress held in Punta Arenas, extreme south of Chile and one of the gateways to Antarctica. Over a hundred delegates from all over the world attended the last week event that was given special support by the Chilean government interested in further promoting Punta Arenas and developing Puerto Williams, further south and even closer to the Antarctic continent.
It was the first time that IAATO, created in 1991 meets in Chile. IAATO basically agrees on self regulation to coordinate the tourist activity in Antarctica in a framework of sustainable tourism and protection of the environment, taking as reference the Antarctic treaty and its system.
For Chile it was an opportunity to implement the 2011/2014 Strategic Antarctic Plan which is basically targeted to promote Punta Arenas and Puerto Williams in the Antarctic tourism trade, an industry that already has an annual turnover of 300 million dollars as was revealed during the XXIVth annual meeting of IAATO in Chile.
Chilean officials argue that the country has several advantages for the industry: the geographical proximity with the Antarctica peninsula; its long experience as supply and maintenance port for Antarctic scientific research which goes back a hundred years and nowadays serves the programs of at least fifteen countries and the air link with a Chilean base in the peninsula.