Chile considers IAATO meeting a great success; many operators looking to work from Magallanes
Tuesday, April 30th 2013 - 09:09 UTC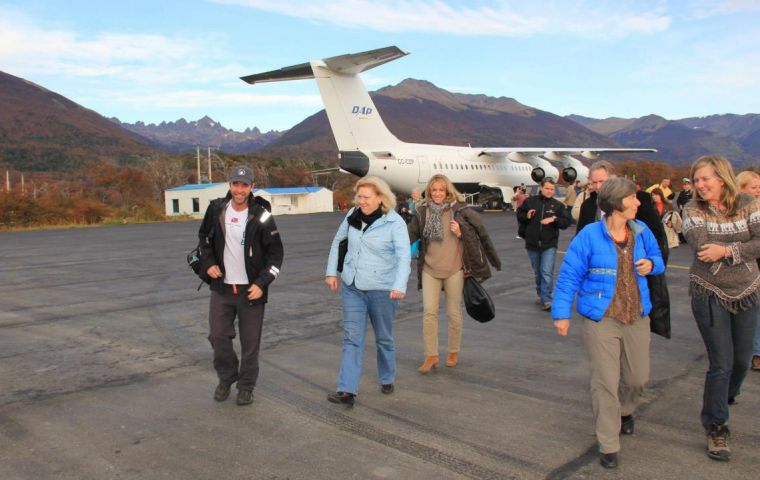 The Chilean government efforts to develop Puerto Williams in the extreme south of the country as an austral tourism centre and gateway to Antarctica received an 'excellent' feedback from the recent IAATO annual meeting held in Punta Arenas.
According to Chilean officials a significant percentage of the IAATO (International Association of Antarctica Tour Operators) said they were prepared to consider the Magallanes Region (that includes Punta Arenas and Puerto Williams) as their operating base for Antarctic tours.
With this in mind delegates to the IAATO annual meeting held in Punta Arenas last week, were invited to visit Puerto Williams.
Puerto Williams lies on the north coast of the island of Navarino along the Beagle channel south of Ushuaia and with direct access both to the Atlantic and Pacific oceans. It is the capital of Chilean Antarctica.
The delegates to the IAATO (International Association of Antarctica Tour Operators) were accompanied by Chilean Tourism Under Secretary Jacqueline Plass and the regional director of Senatur, the Tourism Office, Andrea Tellez.
"Chile has had a spectacular growth in tourism. Last year receptive tourism jumped 13% but we are convinced we need to diversify, we have been too concentrated in a few destinations and we need to open. And one of them in Antarctic tourism, responsibly following sustainability criteria, and in this development other countries are ahead of us", said Ms Plass.
"But to really begin making decisions to operate in the near future from Puerto Williams the operators needed to know the place. And we had the luck of a magnificent day and at the end of the tour I received only positive impressions with many of them expressing an open interest in beginning to operate in Antarctica from Puerto Williams" pointed out the Chilean official.
She further revealed that during IAATO informal conversations, operators took a vote to see how many were prepared to work from Puerto Williams and 90% said they would do so.
"This is so important, it is a turning point, and we have to begin to working real hard, but the most relevant thing is that after the week's meetings confidence is there", underlined Plass.
Although it is impossible for this to happen in the 2013/14 season, given that reservations are booked well ahead, "they would be willing to start in the 2014/15 season. In practical terms this means the Chilean state must ensure operators the existence of sufficient supplies of fuel, food, drinking water and energy to supply the containers with the tons of food needed for the cruise vessels.
"With time and with Puerto Williams' conditions that are unique, I can assure that we are going to transform this place into the great Antarctic operations centre in the future" said Ms Plass.
It was also revealed that Chilean Public Works ministry is working on the blueprints to build a pier for cruise vessels, which should be finished by next year and would demand an investment of 30 million dollars. And another 36 million dollars are to be invested in building the roads system in the Navarino island.
Ian Michel Shaw, head of Polar Latitudes from Canada said that working from Puerto Williams is a great opportunity not only because of the beauty of the place but because of time saving.
"I enjoyed very much the Punta Arenas IAATO conference and visiting this place has been great, mainly because of the closeness of Puerto Williams with Antarctica, which also cuts time by three hours compared to Ushuaia. That is why I'm interested in operating from here and other operators have said the same".
"The fact that the IAATO meeting took place in Chile was important and I believe it has been one of the meetings with greatest attendance of participants which means that Antarctic tourism is seen as a real alternative and even more projected from this zone" said Brigitte Lämmle from Antártica XXI.
Finally the Chilean Foreign Ministry expressed satisfaction with the success of the IAATO Punta Arenas meeting.
"The truth is that all we planned and imagined back in 2012 at Providence when we extended the invitation to come to Chile has been achieved. A tremendous opportunity to have our beauties and advantages known to this important group of operators", concluded Camilo Sanhueza, head of the Antarctic Department at the Foreign ministry.