Chilean navy tugboat checking Antarctica area where Chinese factory ship went down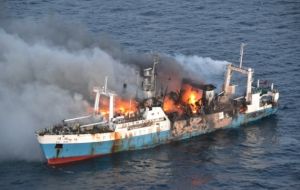 A tugboat from the Chilean Navy equipped for environmental emergencies is trying to determine the position where the remains of the Chinese factory ship Kai Xin went down in Antarctica last week after catching fire and left adrift by the 97 member crew rescued by a Norwegian vessel and a reefer.
'Lautaro' which operates from Punta Arenas naval outpost is also on the outlook to determine any pollution risks since the vessel was left with engines running and adrift in circles, according to the information provided by another Chinese fishing boat, Fu Rong Hai which reported rafts, nets and other fishing gear which appeared in the area following the loss of radar contact with the 4.400 ton Kai Xin.
"The ship had been drifting in zigzags and circles at about five knots per hour. It's very close to glaciers so we sent the tugboat in case it hits the coast", said at the time maritime governor for Chile's Antarctica, Captain Juan Villegas.
The area where she went down is approximately 120 kilometres east of the Chilean Antarctic Base Arturo Prat along the Bransfield strait to the west of the Antarctic Peninsula but so far the Lautaro has found no signs of fuel spill or contamination either because of the depth and intense pressure, or the tanks were sealed.
The owners of the vessel, Shanghai Kaichuang, have said in a statement that the fire occurred while the ship was fishing and that the company will investigate the cause of the accident and the extent of the damage before releasing more details.
Since the first warnings of the fire on board, the Chilean navy search and rescue service supported by satellite images and aircraft operating from Punta Arenas had been keeping track of the incident.
The 104 meters long Kai Xin had left Montevideo last February 17.
Meanwhile this last weekend the 97 crew members were welcomed in the Faklands in transit to China. The men were looked after at the Lighthouse Seamen's Centre in Stanley. Half of the crew was flown out to Uruguay last Saturday and the remaining left on Sunday.
The crew was first rescued by the Norwegian krill fishing vessel Juvel and later by MV Skyfrost a reefer from Lavinia Corporation that supports the Chinese fishing fleet.