Morales can seek second re-election in 2014, says Bolivian constitutional court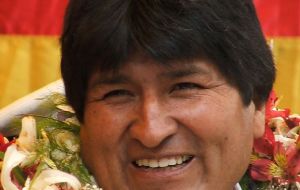 Populist Bolivian President Evo Morales will be allowed to seek re-election again next year, according to a Constitutional Court ruling that sparked opposition protests. Morales was elected in late 2005 and re-elected in 2009 after leading a push for a new constitution that allows only one re-election for a sitting president.
However in a ruling, the country's Constitutional Court said the clock started ticking after the new constitution was signed into law, meaning that next year's vote will be legally counted as Morales' first re-election.
"The presidential term is computed from the time of the adoption of the new constitution," Constitutional Court president Ruddy Flores told reporters.
Opposition leaders disagreed with the decision.
"The constitution is very clear in that there can only be one re-election. If Evo Morales wants a second re-election he should have to change the constitution again," said Samuel Doria Medina, leader of the centre-right National Unity Party.
Morales, the first indigenous president of a country with a majority of non European population has nationalized private companies as part of his policy of increasing state control over the economy, which has made him none to popular among many international investors.
But he has also won plaudits from Wall Street credit rating agencies for sound fiscal management and for building up record central bank reserves.