Uruguay's Figueredo replaces Leoz as president of CONMEBOL until 2015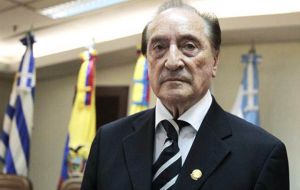 Uruguay's Eugenio Figueredo was officially appointed president of the South American Football Confederation (CONMEBOL) in succession to Nicolas Leoz on Tuesday. He is the third Uruguayan to occupy the post.
Figueredo, the regional body's 81-year-old vice-president since 1993, had been named last week as automatic successor to Paraguayan Leoz, who resigned eight days ago citing health reasons.
The 84-year-old Leoz resigned a week before FIFA ethics committee revealed on Tuesday that he had received kickbacks from the world body's former marketing partner ISL which went bankrupt in 2001. Other official involved in the bribes0 scandal include former FIFA President Joao Havelange and his former son-in-law Ricardo Teixeira.
CONMEBOL will hold elections in 2015 when the current mandate ends, the body said in a statement issued after an executive committee meeting at its headquarters in Luque on the outskirts of Asuncion.
"(Figueredo) is also designated as member of FIFA executive committee in representation of this confederation," the statement added.
"We had the opportunity to say goodbye to Dr Leoz, it was a very emotive farewell to a football man... who did a lot for the South American Confederation," Figueredo told reporters.
Figueredo, a former Uruguayan Football Association (AUF) president, added that CONMEBOL would try to pave the way for a generation change in its administration at the 2015 election.
The FIFA ethics committee report said Leoz and other officials should have had to pay back "bribes" channeled to them in connection with the exploitation of media rights but that the committee considered the case closed.
The report said Leoz, who has always denied wrongdoing, had claimed he donated all the money to a school project in 2008 but had not been "candid" with FIFA executive committee or the investigating body.
Leoz, who had heart surgery for the fourth time in December, had led CONMEBOL since 1986. He also resigned from the position he had held on FIFA executive committee since 1998.
He is admired by Paraguayans for giving his country a strong position in South American football.
Figueredo's tenure as AUF president between 1997 and 2006 was tainted by allegations that he ran it as a friends' club. A controversial vote for television rights went to a company that offered more than 30 million dollars less than their rivals, who had held the rights previously, due to favors owed, according to the Uruguayan daily El Pais.
With FIFA input of $1 million, Figueredo built a training complex for the national team but players and coaches complained it lacked basic necessities like good beds let alone the facilities of a high performance centre.
Uruguay reached the World Cup finals for the first time in 12 years in 2002 under Figueredo mandate but he presided over one of the darkest periods in the domestic game with the impoverishment of clubs. He resigned the year after Uruguay's failure to qualify for the 2006 World Cup finals in Germany.