Argentina natural gas imports in March soar 74% compared to a year ago
Thursday, May 2nd 2013 - 06:25 UTC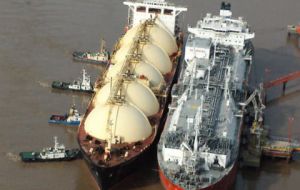 Argentina's natural gas imports rose 74% to 28.4 million cubic meters/d in March, compared with 16.3 million cu m/d in the year-earlier period, the country's Energy Secretariat said Monday. Imports were up 16% compared with 24.5 million cu m/d in February, according to a monthly data report.
Argentina, which relies on gas to meet half its energy needs, imports supplies by pipeline from Bolivia and in its liquefied form from global suppliers. Bolivian gas imports totalled 16.4 million cu m/d in March, up from 9.7 million cu m/d in March 2012 and down from 16.5 million cu m/d in February.
LNG imports shot up to the equivalent of 12 million cu m/d in send-out capacity in March from 6.6 million cu m/d in the year-earlier period and 8 million cu m/d in February, the report showed.
Argentina is boosting gas imports as domestic production declines in response to limited exploration and maturing fields. At the same time, consumption surged 33% to an average of 126 million cu m/d in 2012 from 2003 on a growing economy and price controls that have made it the cheapest source of energy.
The government has put a priority on importing gas because of its lower price compared with diesel and fuel oil. The country is paying an average of 10-12 dollars MMBtu for Bolivian gas and 16-18 dollars MMBtu for LNG.
Argentina exported 95,645 cu m/d of gas in March, a fraction of the 20 million cu m/d it was exporting as recently as 2004 by pipeline to Brazil, Chile and Uruguay, the latter two of which continue to buy minor amounts. Argentina still exports gas supplies despite a production decline because of a lack of domestic pipeline capacity to deliver within the country.