Falklands: Cristina Fernandez leads ceremony to honour 323 crewmembers from torpedoed 'General Belgrano'
Friday, May 3rd 2013 - 05:48 UTC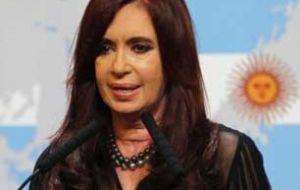 Argentine president Cristina Fernandez honoured the memory of the 323 crew members from the cruiser "General Belgrano" who lost their lives during the Malvinas war, "today, 31 years ago" and described the British torpedo attack on the vessel as "a criminal and coward action".
"We have defined the action many times as such, because the 'General Belgrano' was absolutely outside the exclusion zone when it was attacked", said the Argentine president on Thursday during the commemoration of the sinking at Government House, Casa Rosada.
"I've met many of their mothers, their sisters, their girlfriends, their wives, their daughters, many of them, most of them humble women, from the villages. Always, as in all wars those who die come from humble homes, humble families" added Cristina Fernandez.
The president insisted that the best homage to the dead "is precisely building among us all a better Argentina, not only to recover what is ours, but also unmoveable, tenacious, stubborn always in the framework of international Law, in democracy which is the only way that to claim in the world".
"The best way to honour these men and their families is to continue building an Argentina for which it makes sense that their loss of lives was in the defence of the country", emphasized the president. "They all went to defend a better fatherland, fairer, more integrated more inclusive and with more solidarity".
And adding some current political spice, since Argentina will be holding mid term elections next October and on May 25th will be the tenth anniversary of the first time her late husband Nestor Kirchner took office as elected president, Cristina Fernandez referred those events.
"I'm sure that each of them wanted a better fatherland, so the best way to honour them, to honour these martyrs from the 'General Belgrano' is to continue working as we have been doing for ten years, and always keeping in mind that the fatherland is next to us, our partner in life, in work…"
The 'General Belgrano', Argentina's greatest loss during the 74 day conflict in the South Atlantic following the Argentine military invasion of the Falklands, went down with the loss of 323 crew-members (mostly conscripts), struck by torpedoes from the nuclear powered Royal Navy submersible HMS Conqueror.
The attack according to the Argentine government and long established belief took place outside the 200 miles exclusion zone established by the British. However according to London based on the release of recent documents, and even from Argentine Navy sources and vessel officers, the US built light cruiser (former USN Arizona) was playing cat and mouse along the perimeter of the exclusion zone with the support of two missile armed frigates.