UN Rapporteur insists in criticizing Argentine 'politicization' of the Judiciary
Friday, May 3rd 2013 - 07:01 UTC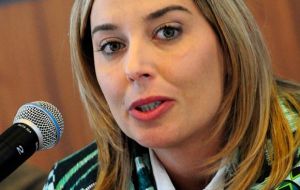 United Nations expert on magistrates and solicitors independence again expressed concern on Thursday about the laws contained in the Argentine government-promoted judicial reform which might lead to the "politicization" of the judiciary branch.
Brazil's Gabriela Knaul, UN's Special Rapporteur told Argentine reporters her role is to monitor the independence of judges around the world. "We receive reports from around the world when some actions of a state jeopardize the independence of the judiciary or the judges. We then organize visits to those nations and carry out a thorough monitoring" explained the expert.
"We react when we have different sources, complaints are flied and after we receive a report of a specific country, like the case of Argentina and its judicial reform part of which still in Congress" Knaul explained.
"My mandate, my responsibility forces me to call on governments when there is a risk of seeing the independence of the Judiciary broken", and in this case "I was very much concerned and transmitted my concern to the government and to the whole (Argentine) community through a release".
Before the release from last Tuesday which made the government of President Cristina Fernandez livid of fury, Knaul had called the Argentine government to reconsider the most controversial bills of the reform which establish the extension of the Council of Magistrates and the regulation of injunctions against the state.
"We haven't received an official response from the government yet," Knaul stressed. "Usually before going to the press we send letters to the governments involved".