UK minister warns waters row escalation with Spain could damage Gibraltar's economy
Saturday, May 4th 2013 - 09:03 UTC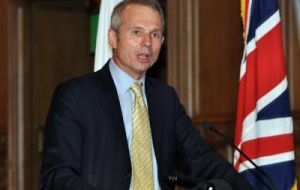 UK Minister for Europe David Lidington has warned that an escalation of tension with Spain in the waters row could damage Gibraltar's prosperity and wider UK interests and pointed out that the incursions were not "an armed attack or invasion" and that the response to them must be proportionate.
Lidington set out his views in a letter to the Voice of Gibraltar Group, whose spokesman Julio Pons had written to Foreign Minister William Hague about Britain's response to Spanish incursions. The UK minister replied that he was aware of the "deep public concern" in Gibraltar about the incursions but that any response must be measured.
"Whilst unlawful incursions by Spanish State vessels are violations of the UK's sovereignty, they are not a threat to our sovereignty," he wrote to Pons.
"Nor do they constitute an armed attack or invasion; it is important that our response is proportionate".
"The Royal Navy challenges all unlawful incursions by means of radio warnings and we make formal diplomatic protests to the Spanish Government."
"A further escalation of tensions could put Gibraltar's prosperity at risk and damage wider UK interests."
"Physical confrontation on the waters would only serve to jeopardise the safety of those involved."
The Voice of Gibraltar Group released copies of Lidington's letter to the media at a press conference. In the letter, Lidington also noted that many incursions over the past year had been connected to the fishing dispute.
He said the UK government supported the efforts that the Gibraltar Government was making to resolve the dispute "…and we continue to encourage all sides to exercise restraint."
The minister also acknowledged that many local boat owners in Gibraltar were anxious about the risk of being harassed by Spanish authorities in British waters. He said any attempt by a Spanish state vessel to exercise jurisdiction in Gibraltar waters would be an "unacceptable" violation of British sovereignty.
Lidington reminded VOGG that he had made a strong public statement in July 2012 after the Guardia Civil detained two local men in British waters and took them to Algeciras.
In November, following another incident involving an attempt to tow a Gibraltarian pleasure boat out of British waters, the Spanish Ambassador in London was summoned to the Foreign Office.
It was, Lidington noted, "…the first time an EU ambassador had been summoned for many years. We have made very clear to Spain that we will continue to respond robustly to any future actions such as this" the minister added.
The Voice of Gibraltar Group said it had written to Mr Hague to express its concerns and frustration at the fact that, despite diplomatic protests, Spain was not taking the UK's complaints seriously and continued with its unlawful incursions.
"We received a reply from David Lidington which can be summarised as 'more of the same'," the group said in a statement.