Falkland Islands: "British sovereignty over the Islands as such, is not accepted by the European Parliament"
Monday, May 6th 2013 - 07:27 UTC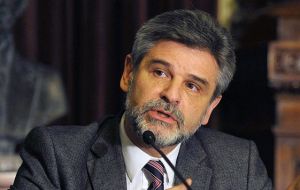 "British sovereignty over the Malvinas Islands as such is not accepted by the European Parliament", according to a visiting delegation of EU lawmakers who met with their Argentine peers in Buenos Aires.
The Falklands issue was brought up by Senator Daniel Filmus, head of the Foreign Affairs committee in the framework of a meeting with a delegation from the EU Commission for relations with Mercosur countries, headed by MEP Luis Yañez Barnuevo from Spain.
Senator Filmus as part of the talks on the stalled Mercosur/EU cooperation and trade agreement suggested to his peers that an additional effort to help Argentina establish a bilateral dialogue with the UK on the Malvinas issue would be very positive for the whole range of issues.
"To advance in the strengthening of the accords it would be beneficial if the EU would commit itself to help so that the UK sits at a table to dialogue bilaterally on the Malvinas question" said Filmus.
He added that the diplomatic path "is the only path we conceive and we stress this position in support of dialogue in all the international forums we participate".
Senator Filmus claimed that the UK is taking advantage of the dispute to 'militarize' the South Atlantic and to extract natural resources that belong to the region.
"There is a growing consensus related to this issue and it's that both sides must sit to discuss it. Militarization and extracting natural resources has implications not only for territorial sovereignty and integration but also economic for our region", underlined Senator Filmus.
It was then that MEP Yañez Barnuevo and head of the EU delegation ratified that for the European Parliament "British sovereignty over the (Malvinas) Islands as such, is not accepted".
However the MEP and his colleagues, Jean Pierre Audy, Josefa Andres Barea y Mario Pirillo asked about the seizure last year of YPF from Spain's Repsol.
Senator Sonia Escudero said that the reasons to advance over 51% of YPF shares "was directly related to the fact that production and reserves of oil and gas under the Spanish administration had collapsed over 40%, while 100% profits were distributed and debts had also ballooned".
"This caused serious energy provision difficulties for Argentina, and thus the decision", added Senator Escudero.
Finally the Argentine lawmakers called for a recovery of the favourable climate that has always signalled relations with the EU, although expressing some apprehensions.
"We observe certain aggressiveness from the EU and some of its member states against Argentina, following the decision to nationalize YPF, which is contrary to the historical links and friendship between the two regions", admitted Senator Escudero.