Italian daily will appeal 'defamation' ruling favouring Cristina Fernandez
Monday, May 6th 2013 - 07:17 UTC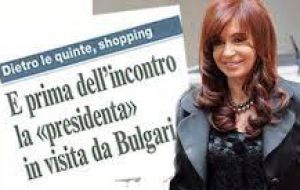 Italy's news daily "Corriere della Sera" said it will appeal a decision by that country's court which ruled in favour of Argentine President Cristina Fernández in a "defamation" case involving alleged "luxury" purchases at Bulgari shops in Rome.
In 2008, the Italian paper published an article alluding to expensive luxury goods that the Argentine head of state apparently had acquired during a visit to Rome when she attended a FAO Summit at the Enigma jewellery shop, owned by top designer Gianni Bulgari. The bill allegedly paid by CFK would have exceeded the 140,000 Euros.
However, a sentence by an Italian court ordered María Egizia Fiaschetti, the reporter who wrote the piece, to pay 400 Euros and imposed then director of Corriere della Sera Paolo Mieli a 300-Euro fine. The ruling also includes a 41,000-Euro compensation that Cristina Fernández announced will be donated to the Children's Hospital of La Plata City.
Still, the donation will not yet be completed as the Italian newspaper will appeal the court's decision.
"They were saying that I went to Bulgari and bought I don't know what load of expensive stuff, gold and diamonds for more than 100,000 Euros and that, not happy with that tour, I went to Pratesi where bed sheets seem to cost more than a Bulgari's necklace. The idea was: the President of Argentines goes to a summit against hunger and at the same time goes buy 100,000-Euro necklaces," Cristina Fernández said as she strongly questioned the media versions.
Current director of Corriere della Sera Ferruccio de Bortoli as well as authorities of the local newspaper La Nación that echoed the news offered an official apology to President Cristina Fernández for the wrong information.