Paraguay supports Mexican candidate for WTO; ignores Brazilian hopeful
Monday, May 6th 2013 - 07:36 UTC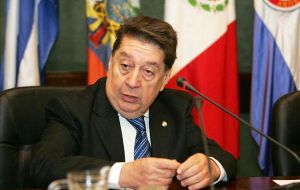 Paraguay made public in Geneva its support for Mexico's candidate Herminio Blanco as the next Director General of the World Trade Organization. The other hopeful who reached the final round is from Brazil, Roberto Azevedo. On Tuesday it should be known who will succeed the current head Pascal Lamy as of next September.
Paraguayan Foreign minister Jose Fernandez Estigarribia said he had held a meeting with Mexico's Blanco, "in which we addressed issues relative to trade relations between the two countries".
Mexico has been lobbying intensely for its candidate and two top officials visited Paraguay last January and February to formally request the support from the administration of President Federico Franco.
In mid January the head of Mexico's Foreign ministry Latinamerican and Caribbean desk from Ambassador Ernesto Campos Tenorio visited Asunción and at the end of February "Foreign minister Jose Antonio Meade formally requested the support for Mr Blanco as the next head of WTO".
Fernandez Estigarribia also said that Paraguay had resumed "negotiations for a free trade accord and the possible incorporation to the Pacific Alliance, as an observer". The Pacific block is made up of Chile, Peru, Colombia and Mexico which happen to be the most dynamic economies of the continent and have a trade policy open to the world, contrary to the prevailing opinion in Mercosur (Argentina and Brazil) which apply protectionist and tariffs.
"Paraguay is after new markets given the recurrent obstacles to trade in Mercosur, which is going through its worst moment according to recent statements from the Uruguayan Vice-president Danilo Astori", pointed out Fernandez Estigarribia.
Finally the Paraguayan official said that the process to name a new WTO head was started in December 2012 with the presentation of nine hopeful names. The process to build a consensus on reaching a decision is advanced by a troika made up of Pakistan, Sweden and Canada, that will finally make the suggestion supposedly with the largest support.