Cristina Fernandez pledges 'no Peso devaluation', but markets are not convinced
Tuesday, May 7th 2013 - 05:49 UTC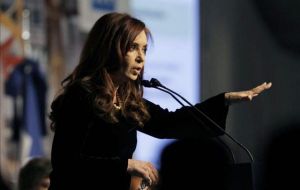 In a clear signal to the markets, President Cristina Fernández de Kirchner strongly rejected on Monday a possible devaluation of the Argentine Peso and targeted sectors advocating for such a measure, as she warned that "those hoping to profit from it will have to wait for a different Government."
"For as long as I'm President, those hoping to make money at the behest of devaluation will have to wait for a different Government, because it won't happen with us," she said as she attended a ceremony at the Government House.
The Head of State issued these statements after a week in which the so-called blue dollar skyrocketed to 10 pesos. On Monday trading the 'blue' dollar was down a few cents to 9.83 and 9.87 Pesos, while the official rate remained at 5.16 and 5.21 Pesos.
"We all know how the governments that succumbed to the devaluation policies ended", underlined Cristina Fernandez adding that "these rumours and versions surface because we're in an electoral process; this is typical".
She went on to underline that "we have ten years in office, we didn't start yesterday: this is not a government of surprises".
However despite the Argentine president strong statement the controversy persists and the foreign exchange markets are edgy while analysts expect the 10 Pesos barrier to fall any moment.
Vice-president and economist Amado Boudou said that that to talk about the blue dollar and devaluation is an exaggeration, a 'marginal issue' because "since 2003 the exchange rate has not suffered problems".
"The 'blue' dollar is something very marginal and speculative which has to do with very few Argentines, no more than 100.000 to 200.000, but we have to look after the 40 million", said Boudou.
"The policy of this government in this field has been very clear: it has to do with reliability, which is evident because since 2003, the exchange rate has not suffered problems".
"We have a foreign exchange rate which at the same time is competitive for exports and inclusive for domestic consumption. Some may want a cheaper or dearer dollar but the government has to implement policies that at the same time achieve several objectives", added the Vice-president.
Finally he described that those in the 'blue' dollar market belong "to a high income bracket who are speculating, while those who have really enjoyed are those who trusted the real economy".
But Boudou triggered an immediate reaction from Eduardo Buzzi, leader of the Argentine Agrarian Federation who said "this young man is having breakfast with gin every morning".
"When a good is scarce the price goes up, and when the currency we have in Argentina devalues day after day it is only natural people want to save in dollars", said Buzzi who warned that the government policy is causing an 'appalling loss of competitiveness".
Buzzi said that disappointingly you can't de-dollarize an economy by decree, and this has been "another major failure of the government. This disastrous policy from caves' time is sending us over the cliff and we are already in deep recession".
He added that farmers are actually paid with a dollar that represents 3.50/4.00 Pesos because of the heavy 35% export levy on grains and oilseeds. "This is paradoxical: we have the best international prices in years, yet farmers are de-financed, when not broke; we are losing competitiveness which has much to do with many things but mainly with flat dollar and domestic costs that have ballooned".
Buzzi was one of the four farmers' leaders which back in 2008 organized massive protests against higher export taxes, and inflicted the Kirchner couple one of their major setbacks.
"I don't know if this young lad is aware of what he is talking, but it seems he likes to have breakfast with gin. He can't be so short-minded", concluded Buzzi in direct reference to Vice-president Boudou.