Falkland Island's delegation with over forty athletes will participate in NatWest Island Games in Bermuda
Tuesday, May 7th 2013 - 02:00 UTC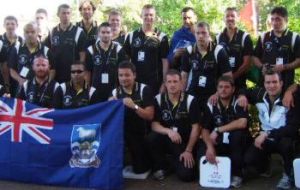 The full squad of competitors representing the Falkland Islands at the upcoming NatWest Island Games taking place in Bermuda from July 13 to 19 has been announced.
The Athletics team will consist of Bill Chater, Martin Collins, Rex Eagle, Hazel Fowmes and Kate Stenning. Rex will again be running the Half-Marathon for the Falklands. Also running in the Half-Marathon will be Martin Collins who will also compete in the 10,000 metres. Bill Chater will be running in the 800 metres, 1.500 metres and 5.000 metres events. Running for the first time for the Falklands in Bermuda will be teenagers Hazel Fowmes and Kate Stenning. Hazel will compete in the 100 and 200 metres events and Kate will run in the 400 and 800 metres events.
The Badminton Club will be sending a large contingent this time. The badminton players for the Falklands in Bermuda will be Michael Brownlee, Doug Clark, Joe Clarke, Anna Luxton, Cheryl March, Duane March, Anastasia Markina, Laura Minto, Ross Stewart and Louise Williams. The squad features the likes of experienced players such as Michael Brownlee, Doug Clarke and Anna Luxton who have competed at many international events but also Anastasia Markina and Louise Williams who will be getting their first taste of Island Games competition.
The Falkland Islands football team will be travelling to Bermuda as well. The Falklands will be one of four Islands taking part in the football tournament. The team will be managed by Ian Betts and the squad consists of: goalkeeper Ben Hoyles, defenders Kyle Biggs, Luke Clarke, Martyn Gilson-Clarke, Josh Clayton, Zaza Elbakidze, Joshua Peck and Scott Thain, midfielders Stephen Aldridge, Andres Balladares, Michael Betts, Daniel Biggs, Shupi Chipunza and Claudio Ross and strikers Wayne Clement and Rafa Sotomayor. The team will play the hosts Bermuda, Froya and Greenland.
The four golfers who will be competing for the Falklands in Bermuda will be Declan Bonner, Glenn Ross, Roy Smith and Ian Stewart. It will be a first Island Games for youngster Declan.
The shooting team for the Island Games will be Michael Goss, Bono McKay, Murray Middleton, Nevin Middleton and Saul Pitaluga. Michael will be shooting at his first Island Games. The team's manager will be Graham Didlick who became the first Islander to win a gold medal at the Island Games at the 1999 Gotland Games.
The Falklands swimming team is very youthful with the age of our swimmers ranging from 13 to 16 years old. The team consists of Emily Barker, Daniel Clarke, Kirsty McLeod, Sophie Pompert Robertson, Sorrell Pompert Robertson and Nikita Whistler. The team recently benefited from the Commonwealth Games Association of Canada sending coach Meg Fracke to the Islands.
With less than a hundred days to go until the action gets underway in Bermuda, the Falklands competitors are continuing to train hard in preparation for the NatWest Island Games which is sure to be a fantastic week of sport. (PN)