Chile launches ambitious tourism campaign at World Travel Market in Sao Paulo
Friday, May 10th 2013 - 05:59 UTC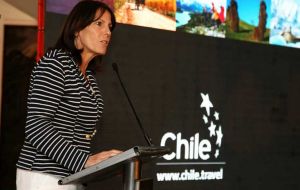 A new international campaign to promote Chile as a tourism destination was launched by the Under Secretariat for Tourism, the institution responsible for the promotion of Chile in overseas markets. The campaign was presented in parallel in Sao Paulo as part of the events at World Travel Market (WTM) Latin America.
WTM is one of the largest tourist events in the world and is held annually in the city of London. This is the first version of the trade show in Latin America.
Geographical, climatic and cultural contrasts play a fundamental role in this campaign, which promotes the diversity of activities in which to take part in Chile, such as trekking in the Parque Nacional Torres del Paine national park, one of the best nature destinations in the world, rafting down rivers surrounded by ancient forests and towering volcanoes, skiing the best slopes in the continent with the Andes as a backdrop, or experiencing the ancient culture of Rapa Nui on the remote Easter Island.
The images within the new promotional materials seek for a way of communication that is more focused on the traveller's experience of the landscape and use, in addition, messages with humour and irony in order to engage a more diverse audience, conveying the essence of the local culture.
Furthermore, it is based on the framework of the plan to promote Chile abroad, which has six experiences: Natural Inspiration, Adventure and Sport, Culture and Heritage, Flavors and Wine, Health and Wellbeing, and Urban Life.
Under Secretary for Tourism, Jacqueline Plass, said that "this new campaign we are launching today to promote Chile abroad aims to directly captivate foreigners that are resident in strategic markets, and is focused towards the emotional aspects while also exhibiting the different experiences and landscapes on offer to visitors in Chile."
"With this new campaign we gain much greater appeal, allowing us to differentiate ourselves from other countries," said Andrea Wolleter, General Manager of Turismo Chile.
The new image will start to be exhibited in all the markets that have been established as priorities: Argentina, Brazil, Peru, Colombia, Germany, France, Spain, England, the USA, Mexico and Australia. It will be used for promotion in print media, online social networks and in public spaces.
Last year was excellent for tourism in Chile, international tourist arrivals grew by 13% over the previous year, reaching 3,468,475 tourists, making the country the fastest growing in the region according to figures from the World Tourism Organization (WTO).
The Chilean government and private institutions involved in the promotion of tourism have set a target of 4 million passengers by 2014, increasing the industry's contribution to the Gross Domestic Product to 6%.