Malvinas' globe in UK stores triggers strong reactions from Falklands' veterans
Monday, May 13th 2013 - 04:39 UTC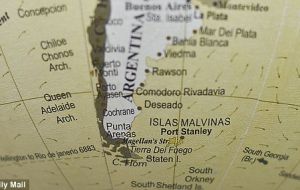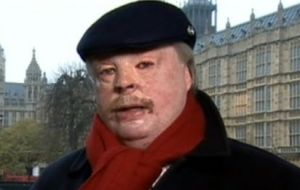 It's not the first time it has happened mainly in Argentina where maps, stationery, climate and navigational charts and even school books related to the Islas Malvinas have been found referred and printed as the Falkland Islands to the fury of the Kirchner 'Penguin' governments.
However a similar situation (distraction¿?) has emerged but in Britain where the John Lewis stores are selling globes with the Falklands marked as the Islas Malvinas, claims an article from the Daily Mail y Claire Ellicott.
Apparently the department store has now been branded 'unpatriotic' for stocking the £95 globes.
Falklands veteran Simon Weston OBE quoted by the UK media said the chain should 'hang its head in shame' for showing a 'shocking disregard and disrespect' for the British troops who died in the 1982 conflict over the South Atlantic islands.
The blunder is also expected to cause outrage on the Islands, where most shops stock food from John Lewis's partner company Waitrose, the Queen's by-appointment grocer.
The globe, made in India, is described on the company's website as 'vintage-inspired' and designed to add a 'traditional touch of knowledge to the room'. In the Peter Jones store in London's Sloane Square and in the Poole, Dorset, shop it was displayed next to other globes on which the territory was marked correctly.
According to the Mail both stores also stocked a larger, correct, version of the globe costing £145.
Mr Weston, who suffered horrific burns when the transport ship Sir Galahad was bombed in the 1982 conflict, accused Britain's leading department store of a lack of patriotism.
'I think it's appalling and shows a shocking disregard and disrespect for all the British soldiers and civilians who died and it's an insult to the real history of what happened' said Weston.
A spokesman for John Lewis said: 'The John Lewis Curiosity Globe is bought directly from a supplier, which provides the artwork on this product. When we launched this product, we approved a finished sample which was used as a template for all production.
'In this case the approved sample was labeled with the Falkland Islands however a second batch of the globe was produced for John Lewis which contained Islas Malvinas on the design in error. 'As soon as we became aware of this, we contacted the supplier to ensure that all replenished stock featured the original approved design".