Falklands' linked scientist who helped identify ozone layer hole has died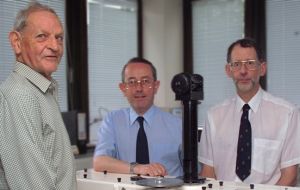 The British Antarctic Survey scientist Joe Farman, who helped identify the "hole" in the ozone layer over the southern pole, has died. Dr Farman who was also a scientific officer at the Falkland Islands Dependency Survey, published the discovery with Brian Gardiner and Jon Shanklin in the Journal Nature in 1985.
The research prompted the Montreal Protocol, an international agreement that controls chlorofluorocarbon (CFC) production across the globe. Dr Farman, who received many awards, passed away on Saturday aged 82.
Prof Alan Rodger, interim director of the British Antarctic Survey (BAS), said: "Joe was an excellent physicist and his work changed the way that we view the natural world.
"After making the discovery of the ozone hole he became an energetic ambassador for our planet."
Speaking to BBC News on the 25th anniversary of the reporting on the hole, Dr Farman said the environment was still being damaged in many ways.
He criticised politicians for failing to lead on issues like climate change and said it was "damned stupid" to keep increasing emissions of CO2 when it was known to be a warming gas. But he also criticised some of the ways in which climate science was being conducted.
After graduating from Cambridge University, Dr Farman was appointed as a scientific officer at the Falkland Islands Dependency Survey, the predecessor of BAS, in 1956.
He became head of the Falkland Islands Dependencies Survey Physics Unit at the University of Edinburgh in 1969 and returned to BAS in Cambridge as head of the physics section in 1976.
It was then that he turned his attention to Antarctic ozone monitoring.
Dr. Farman received many awards in recognition of his discovery, including the Society of Chemical Industry (SCI) Environment Medal, the Chree Medal and Prize, membership of the Global 500 Roll of Honour, an OBE in 1988 and a CBE in the New Year Honours 2000. His last research trip to Antarctica was in 1990, just before he retired.
Farman, Gardiner and Shanklin published their seminal Nature paper on 16 May 1985. The men described balloon measurements of ozone in the stratosphere, above 22km in altitude, which showed a precipitous decline in the concentration of ozone in the Antarctic spring.
Their journal paper also recorded the ever increasing load of chlorofluorocarbons in the high atmosphere, confirming theoretical concern that the man-made chemicals could be depleting ozone. CFCs were routinely used at the time as refrigerants, spray-can propellants and as solvents.
Ozone is a molecule that is composed of three oxygen atoms. It is responsible for filtering out harmful ultra-violet radiation from the Sun. The gas is constantly being made and destroyed in the stratosphere.
In an unpolluted atmosphere, this cycle of production and decomposition is in equilibrium. But when the chlorine atoms released from CFCs enter this process, they act as catalysts favourable to the destruction of ozone.
The Montreal Protocol phased out the use of CFCs.
The quantity of these and other ozone depleting gases in the Antarctic stratosphere reached a maximum around the year 2000 and has been very slowly decreasing ever since. Computer modelling studies suggest the hole - or more correctly a deep thinning - will eventually recover. Last year's hole was the smallest seen in a decade. (BBC).-