UK MoD challenges statistics on suicides among Falklands' veterans
Tuesday, May 14th 2013 - 18:50 UTC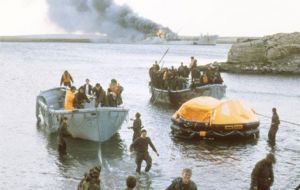 The claim that more Falklands veterans have killed themselves since the war ended than died in action is not borne out by statistics, a study says. Some 255 UK personnel died in action, but a veterans group has said the suicide toll since 1982 exceeds that.
However, the Ministry of Defence has found 95 deaths were recorded as suicides or open verdicts. The MoD said every suicide was a tragedy and urged veterans of any conflict needing support to seek help.
In 2002, The South Atlantic Medal Association, which represents veterans, said it was "almost certain" the number of suicides exceeded the conflict death toll. It placed the blame predominantly on a lack of care for those suffering post traumatic stress disorder.
But the MoD has now investigated the circumstances of 21,432 Falklands veterans three decades after the end of the conflict, and found that as of 31 December 2012, some 1,335 had died.
That compares with an estimated 2,079 deaths that would have been expected among men of a similar age and background who did not serve in the forces, according to the MoD.
Of those Falklands veterans, 7% of deaths - or 95 individuals - were due to "intentional self-harm and events of undetermined intent (suicides and open verdict deaths)".
That finding means that on average across the whole 30-year period, veterans were actually 35% less likely to kill themselves than the equivalent group of British men with no military background.
A MoD spokesman said: "Every suicide is a tragedy and our thoughts remain with the families and relatives of all those lost who bravely served in the Falklands conflict."
He said the government had committed £7.2m to improving mental health support for military personnel, including creating a 24-hour helpline in conjunction with charity Combat Stress.
The spokesman added: "We would encourage any Falklands veterans or serving personnel who need help to come forward to access the wide range of support available."
The study also found: 78% of veterans' deaths (1,046) were the result of disease, while 19% (247 deaths) were the result of external causes of injury; Cancer was the primary cause of disease-related deaths, with 455 cases recorded; But veterans were 30% less likely to die from cancer and 40% less likely to die from disease in general than men with no military background over the period since 1982; Of the 1,335 Falklands deaths, 140 occurred while the individual was still in service - the rest died after leaving the Armed Forces.
The MoD said military personnel were likely to have higher levels of fitness and lower levels of ill health than the general UK population, which could account for the lower incidence of death from disease observed by the study.
The death toll of 255 from the Falklands War includes 237 UK servicemen, along with four personnel from the Royal Fleet Auxiliary, six from the Merchant Navy and eight Hong Kong sailors. (BBC)