Whitewashing draft bill and Moreno have US 'blue' dollar market in Argentina flat
Tuesday, May 14th 2013 - 06:49 UTC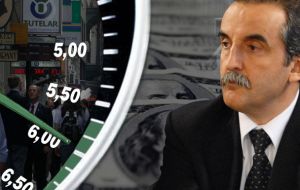 Trading of the 'blue' or parallel dollar in Argentina remained flat on Monday for a second day following last week's events when the 10 Pesos barrier was broken and the government reacted with a tax amnesty or whitewashing draft bill promising all dollar assets holders a new clean record and no questions asked if they turn their greenbacks into government bonds or promissory notes.
The foreign money exchange business in the parallel market is 'on holidays' on fears of a serious government crackdown on dealers and because the supply has virtually dried up, said Buenos Aires City operators.
"Again nothing happened fearing a crackdown. The attitude now is: wait and see", admitted a foreign money exchange dealer.
The last time the 'blue' market operated relatively normal was on Thursday with trading closing just above 10 Pesos having dropped 52 cents during the day. It was the market's reply to the 'tax amnesty' draft bill sent to Congress by President Cristina Fernandez and to Interior Commerce Minister Guillermo Moreno round of visits to several foreign money operators telling them he expected the 'blue' dollar down to 6.50 Pesos by the end of May.
Faced with this situation and the fact that Moreno is well known for his threats and bullying tactics 'blue' market operators preferred to take a 'holiday'.
Meanwhile the official exchange rate for the US dollar climbed half a cent on Monday adding to the three cents of last week, and ended trading at 5.185 and 5.24 Pesos (buying and selling).
Earlier in the day Moreno in support of his verbal threat said that if exporters are selling grains and oilseeds at a daily rate of 150 million dollars (in the official market), "the exchange rate can't be that poor or so under valued".
Moreno then attacked the Argentine Rural Society, the strongest farmers' lobby in Argentina saying that they 'are paying the media and economists' to say that everything is on the wrong track in Argentina.
"They are the same that four months ago were asking their members not to sell the soybean. They are the instigators behind the hoarding with the purpose of attacking this economic, inclusive development model", blasted Moreno.