Bolivian congress confirms President Morales can run for re-re-election
Friday, May 17th 2013 - 06:33 UTC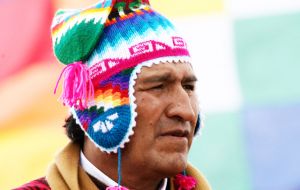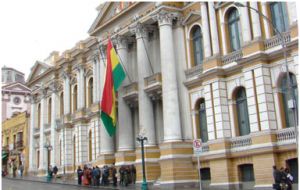 Bolivia's Lower House passed a bill this week which would allow President Evo Morales to run for a third mandate in next years' elections. The bill passed in an 84 to 33 vote, following a decision by the country's Constitutional Court — whose judges were appointed by Morales — saying the re-re-election bill does not violate Bolivia's Constitution.
The working majority of ruling party lawmakers in the Lower House ensured the passage of the bill after 11 hours of debate, despite strong criticism from the opposition, who questioned the bill's constitutionality.
"We are in the right: this is a legal and constitutional measure," ruling party lawmaker Héctor Arce told state-owned Bolivia TV channel. "A new state has emerged, with new rules and a new Constitution," Arce told state news agency ABI.
The Constitutional Court ruled in late April that Morales' term will be counted from 2010, after Bolivia's new Constitution came into effect, "creating a new legal and political order." The court said the clock started ticking after the new Constitution was signed into law, meaning that next year's vote will be legally counted as Morales' first re-election.
"The presidential term is computed from the time of the adoption of the new Constitution," Constitutional Court president Ruddy Flores told reporters.
This means the bill will only take into account Morales' second term after 2010 until next year, which would allow him to run for office for a third time.
The Court's ruling overlooks completely Morales' first presidential term (2006-2009) since the country's current Constitution changed fundamentally in 2010, making Bolivia's official denomination a "pluri-national state" from a "republic." According to the Constitution, a president is allowed to run again for office only once at the end of the mandate.
But opposition leaders disagreed with the Court' decision.
"The constitution is very clear in that there can only be one re-re-election. If Evo Morales wants a second re-re-election he should have to change the Constitution again," said Samuel Doria Medina, leader of the centre-right National Unity party.
Morales, 53, was elected in 2006 and re-elected in a landslide in 2009 — before reaching the end of his first term — due to fundamental changes in the Constitution. Morales has made no comments so far about planning to run for a third term but he has left open the possibility of remaining at the helm and some of his allies have hinted he might announce his candidacy next year. If Morales wins in 2014, he could become Bolivia's longest serving president, with a continuous time from 2006 to 2020.
If he stays in power, Bolivia's president would only follow the lead of others Latin American leaders who have skirted or modified term limits in recent years. Venezuela's late president Hugo Chávez scraped term limits in a 2009 referendum before running for a winning third term last year. After taking office in early 2007, Ecuador's President Rafael Correa moved to rewrite the country's Constitution so that it would allow his re-election. Correa scored a predictable victory at the polls in March.
Morales nationalized private companies as part of his policy of increasing state control over the economy, which has made him unpopular among many international investors. But he has also won plaudits from Wall Street credit rating agencies for sound fiscal management and for building up record central bank reserves. Last year Bolivia issued its first bond since 1922, when JPMorgan sold a bond to fund construction of a railway.