Uruguay: Mujica on a most ambitious mission to China after investments for ports and railways
Wednesday, May 22nd 2013 - 06:03 UTC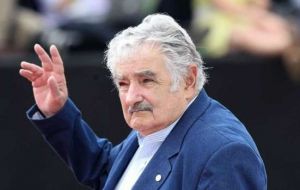 Uruguayan President Jose Mujica begins on Wednesday the longest and most ambitious of his overseas trips hoping to convince China to invest in infrastructure projects that are crucial for the development of the country and its foreign trade: a deep water port and recovering the rail cargo network.
China has become as in much of the rest of South America, Uruguay's main trade partner absorbing most of its commodities production, but the country needs to expand its port capacity and a good rail transport system to cut freight costs.
Mujica will also try to interest Chinese authorities to invest in the dredging of one of the two River Plate access channels, Martin Garcia which runs parallel to the Uruguayan coast, but which Argentine authorities are reluctant to contribute because of the Buenos Aires port lobby that dislikes any competition from neighbouring Uruguay. In this case the channel would benefit the port of Nueva Palmira which ships most of Uruguay's grains, oilseeds and pulp, and has China as one of its main clients.
The construction from scratch of a deep water port is planned along the Atlantic coast close to Brazil, and should help export volumes from the east of Uruguay which in a near future is expected to include iron ore.
The railway system (originally British) many decades ago efficient and profitable was let to collapse with the advance of cement, highways and trucking. But since oil prices have soared transporting cargo by train and in the volumes needed has become again attractive, cheaper and represents savings for the roads system.
Mujica will also tempt Chinese investors with alternative energy sources since Uruguay has abundant hours of sunlight and is usually a breezy rolling country with an incipient but promising wind-farm industry.
The Uruguayan president visit to China, mainly Beijing and Tianjin, will extend from May 25 to 28, and on Monday May 27 will be opening a seminar on "Making business in Uruguay and in China", where he will be the main speaker together with Wan Jifei, head of the Chinese Council for the Promotion of international trade.
Mujica's official delegation, besides ministers and officials in different areas, includes representatives from different private companies involved in trade with China and some of them will be participating in China's International Trade Services Fair, considered one of the world's most important and which opens next Tuesday May 28, and in last year's addition received 100.000 professional visitors from 82 countries.
The fair is organized by China's Trade Ministry and the city of Beijing and brings together 130 different activities referred to the 12 sectors of services trade as defined by WTO. Opening day will be Uruguay Day, with Mujica and the delegation attending and a presentation from the head of Uruguay XXI institute that promotes foreign trade.
From Beijing Mujica flies to Spain and in Madrid will meet President Mariano Rajoy and hold a round of business talks. With Spain in several-years recession Spanish corporations are also anxious to invest in reliable Latam countries and Uruguay is a good opportunity.
As in China, ports, railways, alternative energy are in the menu of possible infrastructure investments. Mujica could also consider a plan to have qualified labour from Spain travel to Uruguay to work in certain specific trades.
He is also scheduled to meet Emilio Botín head of Santander Bank, one of the largest in Europe and which has extensive interests in Latinamerica where the consortium makes most of its profits that help balance losses in Spain and other European enterprises.
From Spain Mujica flies to Italy to share lunch with Pope Francis, with the excuse of helping promote peace talks in Colombia. However it sounds more rational that the former prelate from Buenos Aires and the Uruguayan president have other more-to-the-matter issues to discuss, plus a picture with a Pope that abhors 'savage capitalism' and preaches 'helping the poor and austerity' is excellent for politics back home.
Before returning to Uruguay Mujica will again visit Spain but this time on a more personal schedule. He is scheduled to travel to the Basque countries from where his family originally migrated to Uruguay.