Beware inflation: CFK announces "political groups" will keep track of prices in shops
Thursday, May 23rd 2013 - 07:20 UTC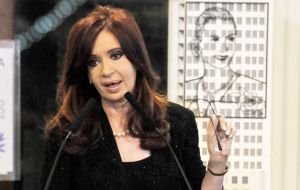 Argentine President Cristina Fernández (CFK) indirectly acknowledged that inflation has become a major challenge for her government despite the fact that the official reading in twelve months is 10.6%, even when private estimates indicate 24% and expectations have soared to 34%.
On Thursday Cristina Fernandez announced that political and youth groups will be active part of a nationwide campaign labelled, 'Observe to protect' which will 'oversee prices' from retail shops to supermarkets to look after "people's savings". The operation will be virtually permanent, she anticipated.
Members from the opposition criticized the 'Stalinist' mob-initiative describing the groups as "presidential street militias".
Cristina Fernandez said that the 'observe and protect' operation will be similar to the spontaneous mobilisation of the people to help when a third of the city of La Plata was flooded and there was an active participation, among others of two Kirchnerite groups, "United and Organized" and "La Campora", the latter with Maximo Kirchner, the president's son as leader.
"We all must look after what we have achieved, in the right way, as happened in La Plata. We must take advantage of that potential, that current of energy from social, youth and political organizations", said Cristina Fernandez.
At the same ceremony in Government House after announcing a series of measures in the Universal Child Allowance program, the Head of State addressed business leaders and said she hoped "this formidable effort made by the Government and society will not lead to an immediate price hike."
"It's almost as if prices are raised by Domestic Trade Secretary Guillermo Moreno or Cristina Fernández de Kirchner, but you are the ones who set the prices and an effort is needed," she said.
"Since you are the most important industries, advertising on mass media, the press always ends ups talking about government and prices instead of you, since you're the ones giving them money for the ads" Cristina Fernandez chided industry and commerce leaders in a message broadcasted on national television.
"There are no elements determining an increase in prices. Don't start complaining about labour costs, because we all well know how prices are made up off. You well know that energy, transport and other services in Argentina are highly subsidized, so don't include them in prices, and don't tell me that we have lost competitiveness", pointed out the Argentine president.
Finally Cristina Fernandez recalled that there is a list of 500 products that have stabilized prices, agreed with manufacturers, distributors and retailers, "so please no surprises".