Toilet paper shortage is because 'Venezuelans are eating more' argues the government
Friday, May 24th 2013 - 07:45 UTC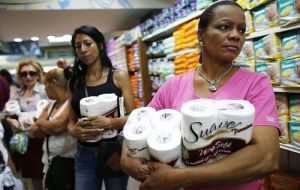 A few hours after the Venezuelan congress voted a 79 million dollars credit for the import of 39 million rolls of toilet paper and other personal hygiene items, the government of President Nicolas Maduro said this was because "Venezuelans are eating more".
The head of Venezuela's stats office, INE, Elias Eljuri came up with the argument on revealing that the latest households' budget poll showed that Venezuelans now "were having three meals a day and even more".
According to the survey released by Eljuri, "95% of the Venezuelan population, estimated in 29 million, now feed three to four times a day"
The poll triggered an immediate reaction of anger and fits of laughter in the country transformed by the Bolivarian revolution.
On the one side people were furious because INE released the information in the midst of one of the moments of greatest scarcity with supermarket shelves virtually empty. To overcome the situation President Maduro had to negotiate with food chains and distributors the import of food and toiletry.
"The ships to address the emergency of certain items and to build the first month of food reserves are arriving" said Food Minister Felix Osorio, in reference to the daily shipments of an estimated 26.000 tons of food from Mercosur trade partners, Brazil, Argentina and Uruguay.
The fits of laugher were caused because of the government's arguments regarding the emergency import of food and toilet paper to address the shortage.
"That is why we need toilet paper" was the phrase most twitted in Venezuela since the stats officer came up with the argument.