Uruguay's Mujica: Integration with Asia is our "Strategy for the Future"
Tuesday, May 28th 2013 - 22:05 UTC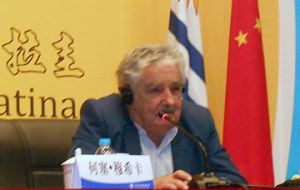 On Tuesday Uruguayan President Jose Mujica said that the policy of integrating the economies of Asia and his country is a necessary "strategy for the future."
At a meeting held in Beijing's Great Hall of the People with the speaker of the National People's Congress, Zhang Dejiang, Mujica said that Uruguay is on "a very rich continent, albeit the most unjust on earth -because of the way its riches are distributed."
"China, who since last year has been Uruguay's leading trade partner, has an increasing participation in its economic future," he said. "Uruguay is the last agricultural reserve of mankind" at a time when the demand for food is growing in Asia.
"It follows," he said, "that a policy of integration is a strategy for the future and something necessary as long as Asia and its needs continue to grow.
"Since we're no longer in colonial times I think we must continue strengthening this relationship," the Uruguayan president concluded.
The meeting took place the day after Mujica had been received by Chinese President Xi Jinping, who expressed his government's readiness to promote bilateral relations.
On Tuesday Mujica wrapped up his four-day trip to China with the inauguration of Uruguay Day at the China International Fair for Trade in Services where he told leading Chinese businessmen of the advantages Uruguay has to offer as a service provider, insisting on the need of dealing from person to person, as a basis for successful trade and political agreements. Thus he defended his decision to travel to Asia and Europe. Mujica rounded up inviting Chinese entrepreneurs to invest in overseas travel to personally meet their prospective partners.