Streetview Buenos Aires
Wednesday, May 29th 2013 - 20:21 UTC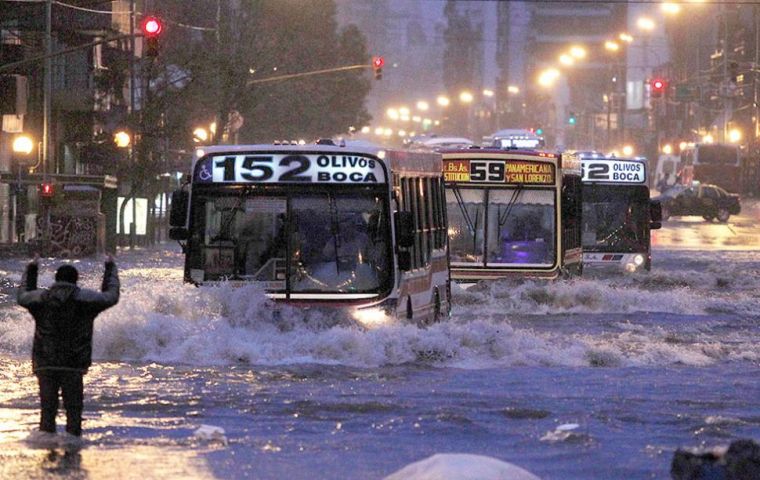 By Albert Canil (*) - As Wrong As Rain - Yesterday saw Argentines fearful of a sequel to the tragic flood that took more than 54 lives in early April. For once weathermen would have chosen to be wrong but night overtook day and the heavens opened: in some neighbourhoods the rain gauges mercilessly read more than 52 mm of rainfall between 11:30 and 2 pm.
The deluge even affected the seat of power as both the Congress and Government House itself had their share this time. The Central Government blames Buenos Aires Mayor Mauricio Macri for not carrying out the necessary works to avert this situation whilst blocking his access to international credit to carry them out. The Government has also tried to halt investigations that would reveal how many people actually died last April. Lost in red tape and broken promises blueprints sing the blues in some moldy drawer.
Yesterday's rain fortunately cost no lives though it did cause considerable material damage and major disruption to the porteños who reject getting used to the idea of regular disasters wrecking their lives. But the mirror should be held up to them too.
Admittedly the city of Buenos Aires has a huge number of plane trees whose leaves clog rain drains, particularly in Autumn, but blaming Platanus × acerifolia does not clear the locals of their share of the blame. Huge share.
Littering in BA is not penalised and the carefree attitude taken by many of its citizens casually dropping whatever may encumber them –sometimes right under a litter bin- has reached epic proportions. From candy wrappers to plastic bags of all sizes and shapes, litter effectively blocks the drains in a much more effective way than either leaves or the south easterly winds that whip the river into the city.
As things stand today Argentines really have something to fear when the clouds gather threateningly over their capital city.
(*) Albert Canil was a regular contributor for The Buenos Aires Herald for close to a decade; he also wrote for REUTERS Samlon, La Prensa and Apertura.
Mr Canil currently does voice-overs and has acted in commercials making good use of the 5 languages he commands: English, French, Italian, Portuguese & Spanish.
He has also been Master of Ceremonies for many world class events.