Argentine cabinet surprise shuffle: Puricelli to Security and Rossi to Defence
Friday, May 31st 2013 - 02:14 UTC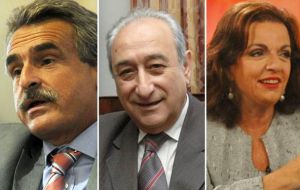 Argentine president Cristina Fernandez shuffled her cabinet appointing Defence minister Arturo Puricelli at the Security ministry and Agustin Rossi until now head of the government's block in the Lower House, in Defence. Removed Nilda Garré is to be appointed as the new ambassador before the Organization of American States, OAS.
The surprise announcement was done by government spokesperson Alfredo Scocimarro at an unscheduled press conference Thursday evening. Ceremonies will take place on Monday.
Rossi who has played a key role in the Lower House to ensure quorum and in working out the necessary alliances to approve controversial legislation is to be replaced his deputy Juliana Di Tullio. He had been in the job since he was elected in October 2005. To keep her job Ms Tullio will have to confirm her bench in next October's mid term election.
Ms Garré has been head of the Security ministry since December 2010 and Defence minister the previous five years. Before that she had been ambassador and was elected to the Lower House on three occasions.
Puricelli from Santa Cruz, and originally an enemy of the deceased Nestor Kirchner, has become a trusted ally and was first appointed as head of the Ministry of Defence Military Manufacturing Enterprise, before becoming minister.
Puricelli was first elected governor of Santa Cruz in 1983 and appointed at the time a young solicitor to head the Rio Gallegos Social Security Department, his name: Nestor Kirchner.
This has been the first cabinet shuffle of Cristina Fernandez since re-election in 2011. At the time Amado Boudou ceased as Minister of Economy since he was in the winning ticket as Vice-president of Cristina Fernandez. Cabinet chief Anibal Fernandez was elected Senator in representation of Buenos Aires province and was replaced by Juan Manuel Abal Medina.
Finally Julian Dominguez, a Malvinas veteran, was elected to the Lower House and was replaced as Agriculture minister by Norberto Yahuar, who is running for governor of the province of Chubut next October.