Falklands' government praised for five year plan to develop oil and gas industry
Friday, May 31st 2013 - 17:23 UTC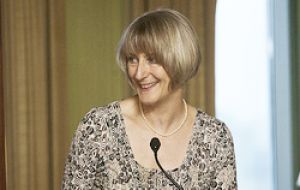 The Specialist Oil & Gas Advisor for the Falkland Islands Government (FIG), Anne Drinkwater has stated that the Falkland Islands are an attractive location for the oil and gas industry and has praised FIG five year plan which sets the desired economic and social context for development generally.
In a four page document outlining the Falklands Islands Oil and Gas Development Readiness, Anne says:
"The Falkland Islands have an attractive fiscal regime, with a government and community keen to do business with the industry. If progress can be maintained on the items already identified, and a few potential problems overcome then the industry will have all it needs to thrive as a valuable member of the Falklands Islands business and social community."
The report highlights the good port and related infrastructure plan that FIG has in place and FIG willingness to work with the industry. However, the report also highlights a number of challenges ahead, including the need to prioritise the oil readiness checklist and establish a critical path for these activities.
Head of Policy for the Falkland Islands Government, Jamie Fotheringham, said of the report "Ms Drinkwater's visit to the Islands and her insightful observations from an industry perspective are immensely useful as we continue to implement our oil readiness programme. I agree that there are some challenges to be overcome, but it is also re-assuring to hear from an independent expert that we are on the right track in facilitating and preparing for future oil and gas developments in the Islands".