Paraguayan inflation 0.2% in five months; economy poised to expand 13%
Tuesday, June 4th 2013 - 08:27 UTC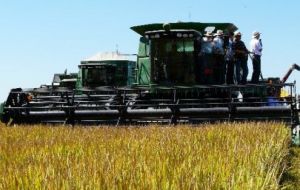 Consumer prices in Paraguay dropped 0.3% during May which brings the accumulated five month inflation to 0.2%, reported the Central bank. The percentage is considerably lower than May a year ago when it reached 0.4% and had accumulated 3.2%. Twelve month inflation in May reached 0.9% which compares favourably with the 3.8% of a year ago
The central bank attributed the fall in prices during May to the cheaper food items in the basic basket, with beef and sugar experiencing the strongest downfall.
Nevertheless annual inflation this year is expected to reach 5%
According to Paraguayan government projections the economy should expand in the range of 13% this year, the highest in the Americas, boosted by abundant crops of soy beans, corn and beef and export volumes.
In 2014 consumer prices are forecasted to soar 5.4% while the economy will expand at a less nerve-racking 5.9%.
Last year inflation in Paraguay was 4%, below the 4.9% of 2011, while GDP in 2012 contracted 0.9%.