IAATO focus on collaborative work at the 36th Antarctic Treaty Consultative Meeting
Thursday, June 6th 2013 - 06:54 UTC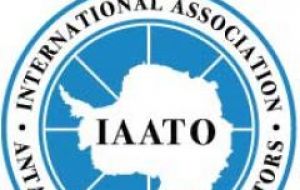 The International Association of Antarctica Tour Operators (IAATO) reported to the Antarctic Treaty Consultative Meeting (ATCM XXXVI) last week and as in previous years, in addition to presenting statistics and estimates of numbers for next season, IAATO reported on the Association's recent work and activities. This year, there was a heavy focus on the collaborative work that IAATO has undertaken with Treaty Parties and other Observers and Experts in a variety of fields.
Following an increase in tourist numbers during the 2012-13 season, tourism is expected to hold steady next season with an estimated 35,400 Antarctic passengers overall to be carried by IAATO operators. This is still well below the 46,265 carried during the 2007-08 Antarctic season.
The information was reported in several Information and Working Papers on tourism activities presented at ATCM, where IAATO is an invited delegation of Experts. The papers provide the Treaty Parties with background information on the work the Association has undertaken to strengthen safe and environmentally responsible private-sector travel to the Antarctic and statistics on the tourism activities of its members during the past year. By providing this information, IAATO aims to support the discussions and the decision-making process at the annual gathering of Treaty Parties, Observers and Experts.
During the meeting, IAATO was particularly pleased to have the opportunity to contribute to the discussions in the special session on Search and Rescue (SAR) in Antarctica. IAATO maintains a strong relationship and communication exchange with the five Marine Rescue Coordination Centres (MRCC) that have responsibility in Antarctica providing an example of best practice in this arena. IAATO also reported on a live SAR exercise that IAATO Member, Holland America Line NV had undertaken with MRCC Chile in February — believed to be the first such exercise in Antarctica — and the subsequent SAR workshop for IAATO members and other experts that was held in conjunction with IAATO24. Noting the value in the training opportunities provided by such live exercises and workshops, there was widespread interest from other Parties to conduct similar exercises in the future.
Marlynda Elstgeest, Chair of IAATO Executive Committee, noted that as an Association, IAATO greatly valued working with other Antarctic stakeholders in the pursuit of sound management practices, drawing attention to another very valuable collaboration that was undertaken this past year on visitor management:
"The joint work undertaken during on-site review of ATCM Visitor Site Guidelines which took place in January, 2013 with Australia, Argentina, UK, USA and IAATO is a good example how effective this kind of cooperation can be. The on-site review team identified no significant impacts at the visitor sites, other than those that had been previously identified, and produced valuable feedback on further enhancing visitor management at these sites. As an organization we are pleased that these Visitor Site Guidelines are proving to be an effective tool for visitor management, complementing IAATO own guidelines and operating procedures, and will always stand ready to work with others to ensure sound visitor management."
Kim Crosbie, IAATO Executive Director also drew attention to the Treaty Party inspections that had been conducted during this past Antarctic summer season, which were reported at ATCM XXXVI. "A number of IAATO Member operations were inspected, and we are very proud of the results of these inspections, which serve as a further external endorsement that IAATO members were fulfilling the organization's mission and objectives and operated according to the IAATO guidelines".
"IAATO remains committed to working with Treaty Parties, not only for the association's internal integrity and robustness, but also to ensure transparency and accountability for our Antarctic tourism activities," she added.
IAATO also reported to ATCM XXXVI on its new Strategic Plan, which sets out the organization's goals and objectives for the next five years, and includes a newly adopted vision for the association "Through self-regulation, Antarctic tourism is a sustainable, safe activity that causes no more than a minor or transitory impact on the environment and creates a core of ambassadors for the continued protection of Antarctica."
An updated annual Antarctic Tourism Fact Sheet, was provided to all ATCM delegates; this fact sheet is also available for downloading from the IAATO website.
IAATO Information Papers are now available on the IAATO website, and include:
• Report of the International Association of Antarctica Tour Operators 2012-13
• Report of IAATO Operator Use of Antarctic Peninsula Landing Sites and ATCM Visitor Guidelines, 2012-13 Season
• IAATO Overview of Antarctic Tourism: 2012-13 Season and Preliminary Estimates for 2013-14 Season
• IAATO guidelines for short overnight stays
• IAATO information submitted annually to Marine Rescue Coordination Centers with Antarctic responsibilities
• IAATO Climate Change Working Group: Report of Progress
• Barrientos Island Footpath Erosion
Additional papers that IAATO co-sponsored, or worked in conjunction with, included:
• Joint Search and Rescue (SAR) Exercise in Antarctica (with Chile)
• Policy issues arising from the 2013 on-site review of Site Guidelines
• Establishment of two new and 14 revised Visitor Site Guidelines (in conjunction with various Treaty Parties)
• Review of ATCM Recommendations on Operational Matters (with other ATCM Observers and Experts)
• Data Collection and Reporting on Yachting Activity in Antarctica in 2012-13, (jointly submitted with the United Kingdom)