U.S. and Venezuela agree to start dialogue to restore respective ambassadors
Thursday, June 6th 2013 - 02:13 UTC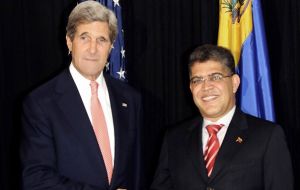 The United States is to start a dialogue with Venezuela aimed at restoring their respective ambassadors, US Secretary of State John Kerry has said. He was speaking after Venezuela freed and deported a US filmmaker who had been held on conspiracy charges. Mr Kerry welcomed Timothy Tracy's release as a "positive development".
Relations between the US and Venezuela have been poor in recent years. They last had ambassadors in each other's capitals in 2010.
Washington has angered Caracas by backing the Venezuelan opposition's demand for a full recount of the presidential election in April to replace Hugo Chavez, who died in March.
Mr Chavez's anointed successor, Nicolas Maduro, won the vote by less than two percentage points.
But during a regional summit in Guatemala Mr Kerry said he had agreed with Foreign Minister Elias Jaua on an "ongoing, continuing dialogue" in order to "establish a more constructive and positive relationship".
He said the US wanted to "begin to change the dialogue between our countries and hopefully quickly move the appointments of ambassadors between our nations".
Mr Jaua said that for Venezuela it was important to build a relationship based on the principles of mutual respect and no interference in internal affairs.
"If those points are respected we will be able to improve relations with the United States. That is our intention," said Mr Jaua.
Mr Tracy was detained in April, accused of fomenting post-election violence. His family said he had only been making a documentary.
Earlier on Wednesday, Interior Minister Miguel Rodriguez Torres announced on Twitter: "The American Timothy Hallet Tracy, who was caught spying in our country, has been expelled from the national territory."
Mr Tracy's lawyer said the charges against his client had been dropped. Rodriguez Torres had previously said that Tracy was trying to "destabilise the country with the goal of starting a civil war" - an accusation that US President Barack Obama called "ridiculous".
Mr Tracy's lawyers said his films had "nothing to do with state security".
He was arrested on 24 April as he was trying to fly out the country from Simon Bolívar International Airport, outside the capital Caracas. The government accused him of directing funds towards student protesters after the presidential election on 14 April.
Nine people died and dozens were injured in clashes following the disputed poll.
The losing opposition candidate, Henrique Capriles, alleges that Mr Maduro "stole" the election through fraud and voter intimidation. Venezuela's electoral council is currently conducting an audit of the votes, which Mr Capriles has dismissed as a "farce".