Brazil's inflation still at 6.5% upper; Central bank determined to contain prices
Friday, June 7th 2013 - 23:45 UTC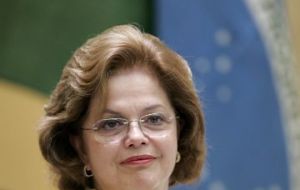 Consumer prices edged up 0.3% in Brazil last month, fuelled by higher medicine, clothing and housing prices, with 12-month inflation at 6.5%, the state statistics agency said on Friday. The May increase, in line with market analysts' forecasts, was lower than the 0.5% recorded in April and the lowest since June 2012.
The Brazilian Geography and Statistics Institute (IBGE) said medicine prices increased by 0.9% in May, clothing by 0.8% and housing by 0.7%. Central Bank authorities want to bring inflation down to 4.5% this year.
Last month, the central bank raised its key interest rate by 0.50 points to 8.0% to control rising inflation, the second increase within weeks. In April, the bank's monetary policy committee pushed the rate up by 0.25 points to 7.5%, the first increase since July 2011.
Experts were alarmed in March when it was confirmed that 12-month inflation reached 6.59%, above the official upper limit of 6.5%. In 2012, Brazilian consumer prices rose 5.8% after a 6.5% hike the previous year, the highest level in seven years.
Released minutes from the May 29 Monetary Policy Committee meeting (Copom) indicate that rising price expectations justified the decision to hike its benchmark Selic rate to 8%, and warned that in the short term annual inflation was on an upward trend and its outlook remained "unfavourable." The Copom's next meeting is on Aug. 28.
The Copom decision was unanimous. The accelerated pace of monetary tightening surprised investors who expected a smaller increase after government statistics showed the economy growing more slowly than expected.
President Dilma Rousseff's government is shifting focus away from stimulating a slow-moving economy toward fighting high inflation, which could erode her popularity at a time when she prepares for re-election next year.
While most central banks are cutting interest rates as global inflationary pressures fall policymakers in Brazil started to tighten policy to ease a surge in prices stemming from more public spending, growing wages and high service inflation.
In the minutes, the bank said that a pick-up in the pace of monetary tightening currently under way is "appropriate" to contain inflation expectations.
"Considering the damage that the persistence of this process would cause on consumption and investment decisions, it is necessary to reverse it (inflationary pressure) in a timely manner," said the bank.