Paraguay was chosen to host OAS general assembly next year
Friday, June 7th 2013 - 08:08 UTC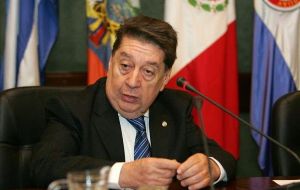 Paraguay will host the next Organization of American States, OAS, General Assembly scheduled for June 3 to 5 of 2014 in Asuncion. The decision by acclamation was taken on Thursday at the end of this year's event in Guatemala.
"I'm sure that with the support from all of you and the OAS, the next assembly will be a great success for the integration or our peoples and for addressing issues of common interest for all of us", said Paraguayan Foreign minister Jose Felix Fernandez Estigarribia on Thursday.
The Paraguayan minister on reading the declaration stating Asuncion as the host city, explained that the Paraguay offer is "a reaffirmation of the country's commitment with the purposes and principles of the OAS charter", and "evidence of its strong commitment to continue actively participating in the strengthening of the institution".
Fernandez Estigarribia thanked in the name of his government and the Paraguayan people the unanimous decision saying that it is simply "the acknowledgement to an organization that has always supported the Paraguayan people".
The last time Paraguay hosted a similar event was in 1990.
For Paraguay currently suspended from Mercosur and Unasur, hosting the OAS meeting in 2014 can de described as a 'diplomatic success', because it turns back the acrimonious confrontation with the two regional organizations and opens the way for a strong return.
Paraguay was suspended a year ago when the Senate overwhelmingly voted in a political impeachment to have Fernando Lugo removed (for incompetence) and replaced by Federico Franco.
Mercosur and Unsaur described the decision as a congressional coup and immediately suspended Paraguay, and voted the incorporation of Venezuela as full member of Mercosur, a decision that was pending for years and which run the risk of a veto from Paraguay.
The suspension was until new presidential elections were held which happened last April with the victory of Horacio Cartes. But Argentina and Brazil argue that the suspension stands until when the president-elect takes office scheduled for August.
However a similar move to have Paraguay suspended from OAS sponsored by Argentina and Bolivarian countries was thwarted by the US, Canada and other nations from the Caribbean.