Argentina celebrates: China accepts three GM types of soybean for consumption
Monday, June 10th 2013 - 20:41 UTC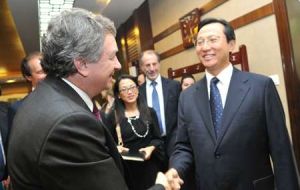 China approved three genetically modified soybean types for consumption, including the RR2BT seed resistant to the imidazolinonas and the glufosinat-ammonium herbicides. The announcement was made following a meeting between Agriculture ministers from Argentina and China in Beijing.
"This is one of the most important news of the past years for the country in terms of foreign trade" Argentine Agriculture minister Norberto Yauhar said following a meeting with his peer and host Han Chang Fu.
Yauhar also confirmed the purchase of 60,000 tons of Argentine corn by the government of Xi Jinping and underlined that "China-Argentina and with the rest of Latinamerica and the Caribbean are going through an excellent moment".
According to the Argentine government, Buenos Aires-Peking agreement represents a new step in transgenic seeds trade that account for most of Argentina's agricultural production, mainly of soy –the local "golden" commodity export-, using the RR glyphosate -resistant type developed by Monsanto.
The dealt sealed under the margins of the first China-Latin America Agriculture Ministers Forum involves also the approval of the 1161 corn type for consumption in China.
"In the next season we will be using these approved seeds and obviously, we will be able to sell more" Yauhar.
Bilateral trade between the two nations was worth some 14.5 billion dollars in 2012, according to the Chinese embassy in Buenos Aires. The main Argentine exports are soy products, including flours and oils.
Last May the two countries signed a memorandum to "promote the exchange of agricultural products" during an official visit to Buenos Aires by Chinese Vice President Li Yuanchao.