Paraguay soy exports reach 1.55bn dollars in first five months of 2013
Monday, June 10th 2013 - 14:02 UTC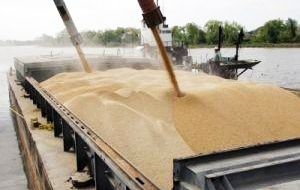 Soybeans, electricity and beef figure as the main export items of landlocked Paraguay, during the first five months of the year. According to a release from the Ministry of Industry and Trade, exports at the end of May reached 4,12bn dollars compared to 2.96bn a year ago, which represents a 57.3% increase.
Soy leads with 1.55bn dollars, up 81%, followed by electricity with 914 million dollars (slight drop of 1.1%) and beef, 310 million dollars plus 65 million whether frozen or chilled. Corn exports represented 84.7 million dollars and rice, 82.3 million. Forestry was down 11.3%, so were fruit and vegetables, with the exception of bananas that soared 240% over a year ago.
Light manufacturing: textiles and clothing wee also up, 13.6% in the first five months of the year and stevia, natural sugar, suffered a drop of 23% because of a fall in price, but the sucrose extract was up 26.6%.
Among Paraguay's main trade partners figure Brazil with 15% of Paraguayan sales, followed by Russia with 13% (main buyer of beef). Italy, Germany, Chile and Spain have 5% each; Mexico, 4%; Turkey, Argentina and Peru, 3% each according to the Ministry of Industry and Commerce stats.
Paraguay ranks as the world's fourth exporter of soybeans and among the leading ten in beef.