Argentina shale oil reserves rank fourth behind Russia, China and US, says latest energy report
Wednesday, June 12th 2013 - 07:22 UTC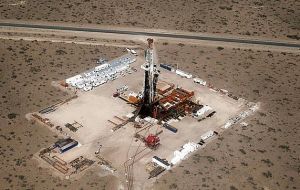 Argentina ranks fourth, behind Russia, the United States and China with technically recoverable shale oil reserves of 27 billion barrels, the US Energy Information Administration (EIA) said in a landmark report that offers a preliminary glimpse of the hydrocarbons that remain untapped across the world.
A 2011 EIA report had already ranked Argentina third behind China and the US in shale gas resources but the latest report was the first official estimate of shale oil resources as well.
"Argentina has world-class shale gas and shale oil potential—possibly the most prospective outside of North America—primarily within the Neuquén Basin. Additional shale resource potential exists in three other untested sedimentary basins," noted the EIA study.
Technically recoverable reserves are an estimation of the amount of oil or gas that can be extracted with today's technology. In 2011, the EIA estimated shale gas resources of 774 trillion cubic feet (22 trillion cubic metres) in Argentina.
Although the ranking heightened interest in Argentina, the country has failed to increase exploration as much as expected as international companies hesitate to invest in Argentina at a time of increased government control over the oil and gas sector.
In its latest report, the EIA increased technically recoverable shale gas resources in Argentina to 802 trillion cubic feet. The study released marked the first time the US government has estimated potential shale oil resources outside the United States, saying that technically recoverable shale oil reserves in 41 countries total 345 billion barrels.
The EIA details how there has been "significant" exploration in Argentina as well as "early-stage commercial production" by several top companies, including Apache, EOG, Exxon-Mobil, Total and YPF.
The exploration has mostly been in the Los Molles and Vaca Muerta formations, where some 50 wells have been tested "with mostly good results," according to the EIA.
Vertical wells in the formations are "producing at initial rates of 180 to 600" barrels per day, noted the report.
The Vaca Muerta formation in the Neuquén basin has technically recoverable shale gas and shale oil resources of 308 trillion cubic feet of gas and 16 billion barrels of oil and condensate. In Los Molles, EIA estimates technically recoverable shale resources at 275 trillion cubic feet of gas and 3.7 billion barrels of shale oil.
State-controlled YPF has the rights to around 3 million acres in the basin and is currently negotiating with several companies, including Chevron, Total, Statoil and Dow Chemical, among others, to jointly develop shale resources. YPF and Chevron are reportedly in the final stages of sealing a shale-focused deal that could be worth as much as 1.5 billion dollars.
YPF has emphasized the country's shale potential after President Cristina Fernández signed into law the seizure of a majority stake in the company from Spain's Repsol, its previous controller.
But most international players have so far kept a low profile in Argentina, likely wary of legal threats from Repsol that has vowed to file lawsuits against any company that partner with YPF. Repsol has called the expropriation of YPF "illegal" and is demanding 10.5bn dollars in compensation.
For its part, Apache has 1.3 million net acres in the Neuquén Basin with shale potential and estimates net recoverable potential at 0.8 billion barrels, according to the EIA.
Argentina's Golfo San Jorge basin, located largely in Chubut and Santa Cruz, and Austral basins, mostly in Santa Cruz and Tierrra del Fuego, "also have good potential," according to the EIA. But so far there has been no shale exploration reported in either basin.
Overall, estimated global reserves of oil in shale rock deposits will boost total world crude resources by 11", says the report.
Oil and natural gas production has rocketed in the United States in recent years due to the emergence of horizontal drilling and hydraulic fracturing, or fracking, that have unlocked decades of supply from shale deposits dotted across the country.