Argentina train crash kills 3, injures 315 and sparks controversy over the rail system
Friday, June 14th 2013 - 03:29 UTC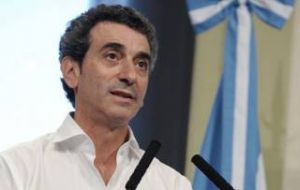 At least three people were killed and 315 others injured when two trains collided Thursday morning outside Argentina's capital, officials said. The causes of the accident are yet to be determined and have already triggered controversy giving the poor conditions of the Argentine railway system.
The accident occurred in Castelar, located 30 kilometres west of Buenos Aires, at 7:07 a.m. when a train headed for the city of Moron on the Sarmiento line hit an empty train that was stopped on the tracks.
Argentine Interior and Transportation Minister Florencio Randazzo said that the authorities must "determine whether the train crash was an accident or it was intentional," and urged the media to provide the public with "objective information".
"The train was always speeding up, even when it was supposed to be cautious or stop," he warned.
Rejecting claims by rail workers' union that the train was not fit for service, Randazzo assured that the brakes system of the train responsible for the death of three people and hundreds of injured this morning "was brand new" and urged the population not to jump to conclusions "before the contents of the train's black box are analyzed."
Service will be suspended on the Sarmiento line for 24 hours so investigators can determine if Thursday's crash "could have been avoided" Randazzo told a press conference.
The Sarmiento line was also the scene of a February 2011 accident that left 51 people dead and more than 600 injured.
On the other hand, opposition leaders Hermes Binner and Patricia Bullrich demanded the resignation of Randazzo, as result of the accident.
"It represents the absence of a state that denies to fulfil its obligations", Binner stated.
In addition, Bullrich also blamed Alejandro Ramos, the Secretary of Transportation, and accused him of being responsible for today's tragedy. "Alejandro Ramos and Minister Randazzo have to present themselves in Congress immediately, and bring explanations", said Bullrich.
President Cristina Fernández de Kirchner expressed her "solidarity and condolences" for the three families who lost their relatives in the Castelar train accident, and said that she feels "sadness and impotence."
"I don't want to put a name to this so a court can determine what happened," she said during a ceremony at the Government House, where she said that despite the Government's investments in the railway system "we have things like these happen."
Meanwhile a federal judge ordered the arrest on murder charges, of the engine driver and of his co-driver manipulating the collided train. Per request of district attorney Sebastián Basso, Federal Judge of Morón Jorge Rodríguez decided their detention. Both the driver and the co-driver of the Sarmiento express had been isolated since the accident took place at 7.07 am this morning.